The Most Popular Features to Add When Redoing Your Outdoor Space
Ready to enjoy the great outdoors from the comfort of your own home? A stunning yard designed for relaxation and recreation beckons you into the fresh air daily and delights your guests with stunning spaces to enjoy. Here are some vital features to consider when redoing your outdoor space. We'd hate for you to miss an opportunity to add the perfect touches to your personal paradise.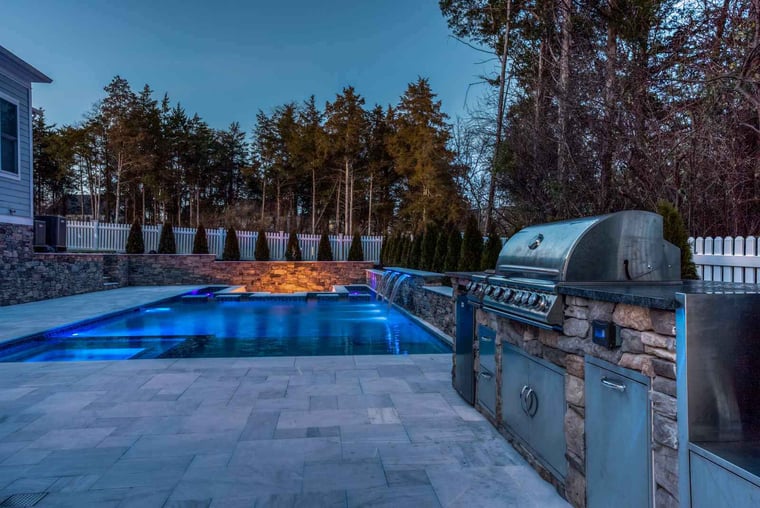 Deckscapes creates beautiful luxury outdoor living spaces in Northern Virginia. Our expertise gives us plenty to say about the best options to include in your new backyard and beyond. We're thrilled to be a resource as you plan your project. Let's dig into our favorite features to add to your custom outdoor space.
Top Features to Add to Your Custom Outdoor Space
A Porch, Patio, or Deck
Adding a delineated room to sit, eat, savor, and gather are vital to creating a well-rounded outdoor space. Think of this as the base for your outdoor renovation or addition. Add a deck, porch, or patio, and then customize it with your own unique preferences. Add a screened porch to keep the bugs at bay or a covered porch to provide shade and a gentle transition from inside to out.
Pavilion or Gazebo
You don't need to attach your covered outdoor space to your home. You can create a pavilion or gazebo to offer a freestanding covered solace in an entirely separate area of your yard. Add a ceiling fan, dining area, firepit, or cozy lounge space to add options and variety to your backyard paradise.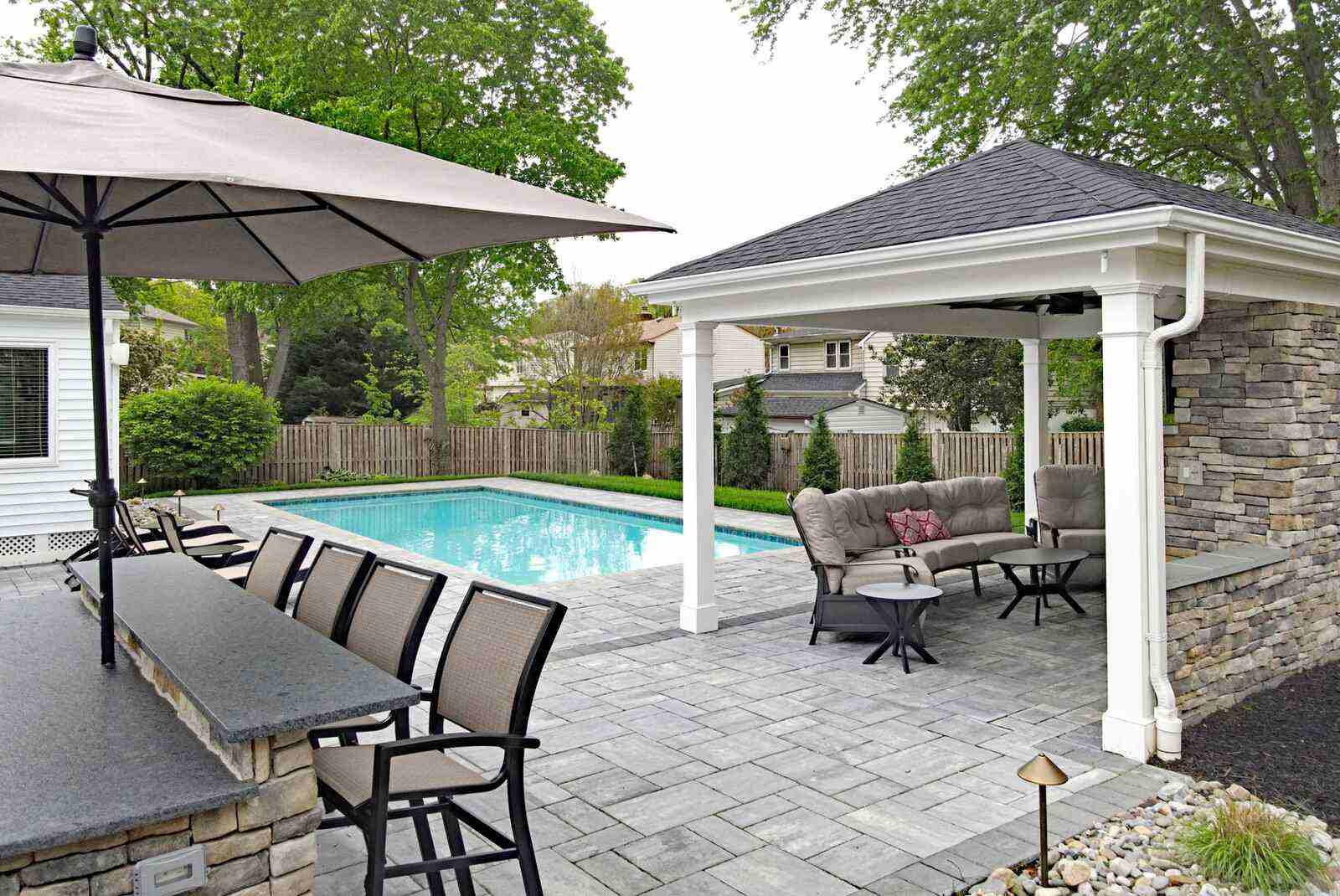 Built-in Seating
Create permanent options to park it and take in the view! Add retaining walls for perching, built-in benches for the ultimate conversation space, or porch swings for stylish and whimsical relaxation.
Fire Pit/Fireplace
Create an inset fire pit with built-in seating, or better, a stately stone fireplace with a hearth, perfect for camp cooking, congregating, and contemplating. Fire features are one of our most popular additions to outdoor living spaces because of their broad utility and appeal.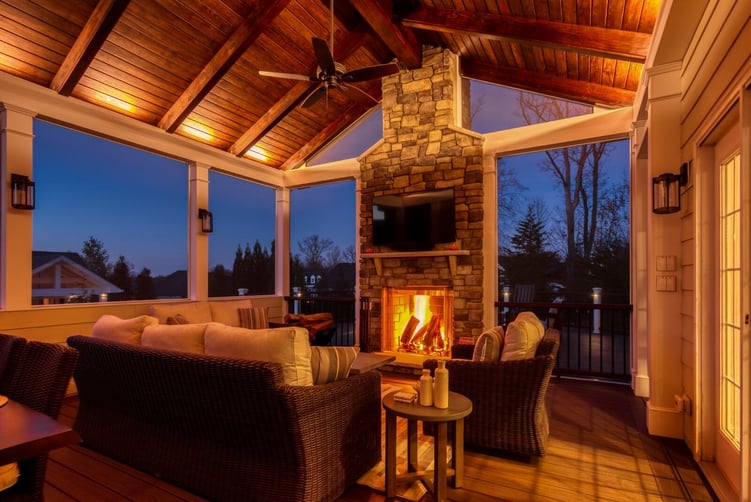 Outdoor Kitchen
Don't stop with a basic grill! An outdoor kitchen creates endless dining and entertainment options customized to your preferences. Add a grill, smoker, refrigerator, cooktop, prep space, sink, and more. Pro-tip: Include a pass-through from your interior kitchen to make set-up and clean-up a breeze. (And speaking of the breeze, you'll also enjoy the fresh air in your kitchen!)
Custom Lighting
Don't limit your entertainment options to daylight hours. Custom lighting is vital to illuminate your investment and keep your space inviting. Add lighting to your porch, deck, patio, or even the surrounding landscape to keep the space delightful after the sun goes down.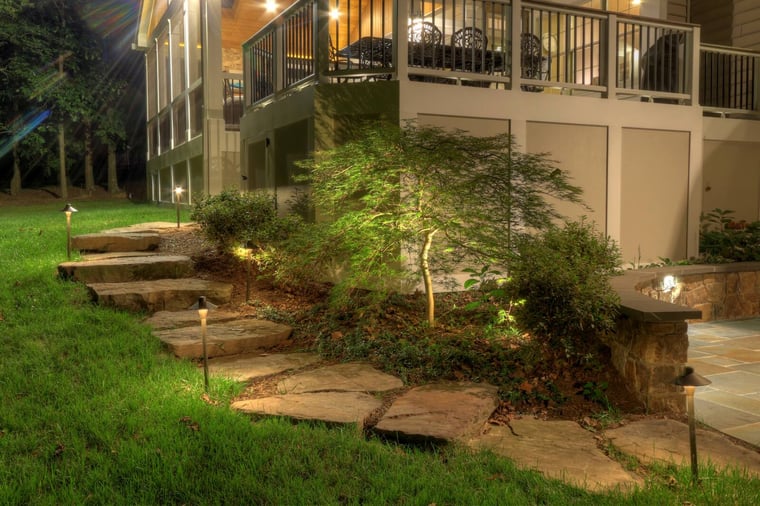 Pool and Pool House
A backyard pool is a lovely place to congregate, recreate and exercise. There's nothing like a convenient and private swim on a hot day. We love creating custom pools to level up your outdoor experience. A pool house provides storage, privacy, and even a restroom so that everything stays organized and convenient. A large pool house can even double as a guest house for ultimate privacy.
Landscaping
Your yard needs vibrant landscaping to match the elevated outdoor spaces you've just added. Create lush garden beds, raised islands, water features, and more to ensure your outdoor space offers the best greenery on the block.
Why Add Upgrades to Your Outdoor Space?
The reasons people choose to update and remodel their outdoor living spaces are just as unique as the projects they select. Here are some of the most common reasons people upgrade and remodel their outdoor living spaces.
Curb Appeal
There's no doubt that a new porch, path, or portico will add drama and delight to the face your home presents to the world. Distinct and attractive outdoor features advertise style and luxury and invite your guests in to further explore your curated world.
Increase Home Value
Not only do these lovely upgrades look divine, but they also increase your home's value. Well designed outdoor entertaining and recreation spaces catch a buyer's eye and appear on many of their wish lists. You could see north of 50% of your investment returned at resale.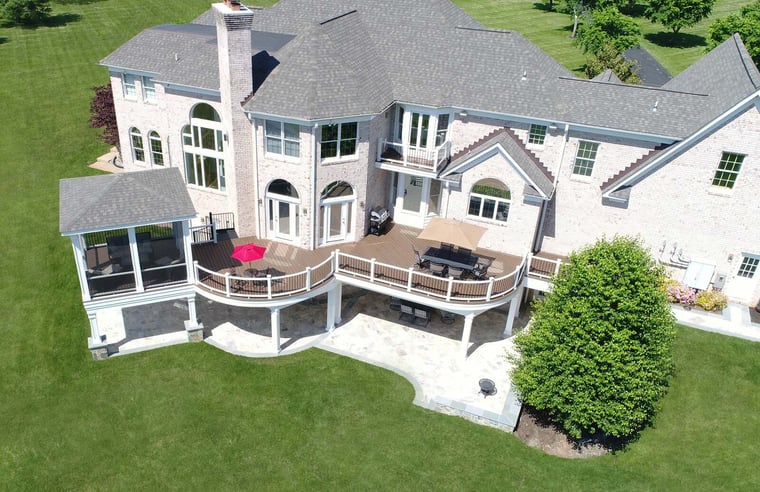 Enjoy Your Upgrades
You are the most important consumer of your outdoor upgrades. Building your dream pool, wrap-around porch, or outdoor kitchen changes your daily experience and offers you new options for everyday life. Many clients have and need no other reason to build the perfect backyard paradise. They can't wait to use and enjoy their new upgrades!
Easy Entertaining
Outdoor kitchens, seating areas, firepits, pools, and porches are made for gathering. Creating welcoming, functional, and stylish outdoor spaces pulls your guests outdoors. Expanding your options for entertaining allows for larger events or outdoor-focused gatherings that require less indoor prep and cleaning.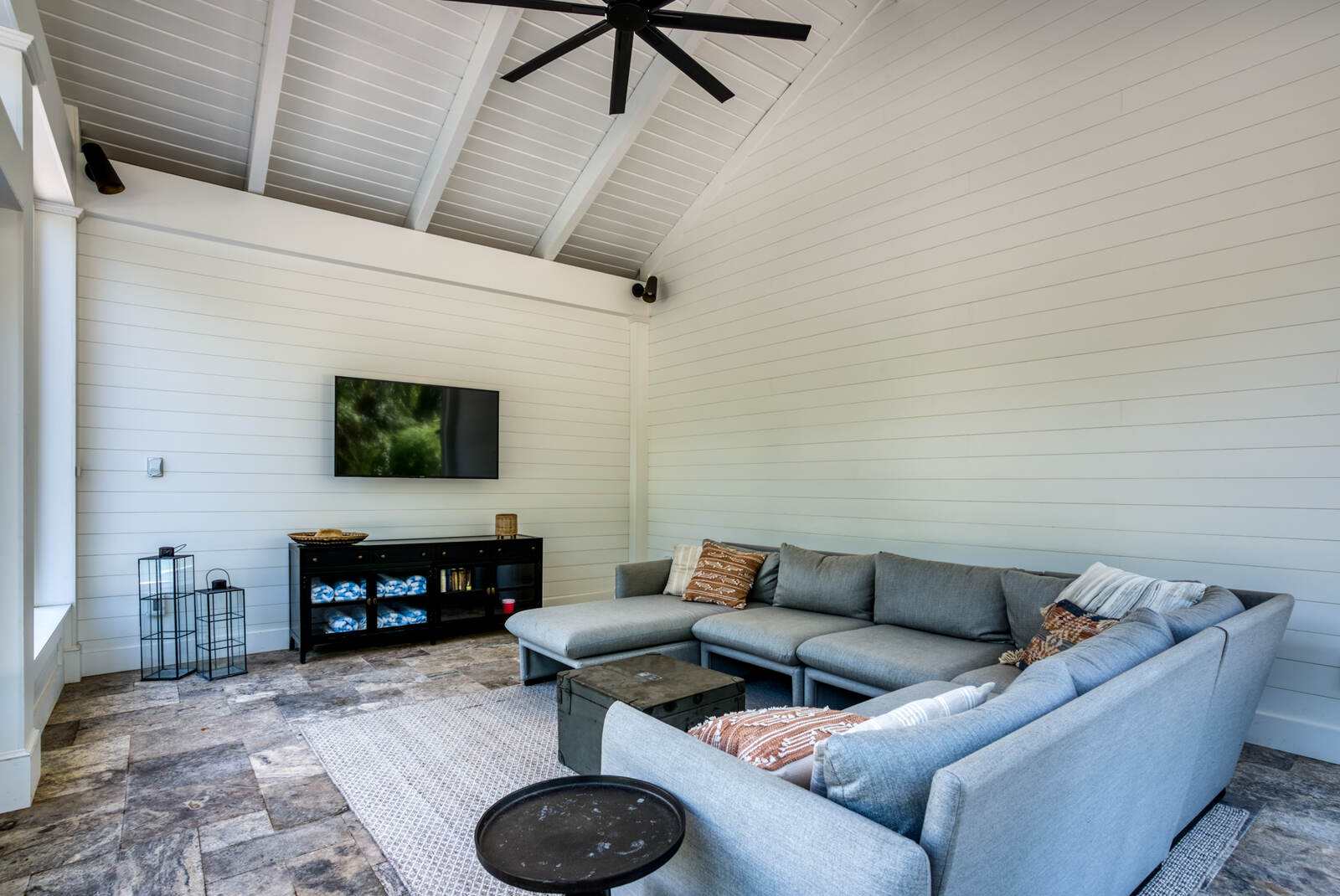 Coordinated Look
Adding every element at the same moment allows us to weave in common materials and colors throughout your project. Use the same to build your fireplace and your seating walls. Repeat the tile from the outdoor kitchen poolside. This continuity is difficult to achieve after the fact when your contractor must search for the closest match.
More Expensive to Add Later
Adding features you decide you want later is almost always more expensive than building them in the first time, when your contractor is already there with all of the tools needed to get the job done, and your building site is already in productive upheaval.
Your Northern Virginia Outdoor Area Expert
Ready to make it real? Deckscapes designs and builds stunning outdoor features in Northern Virginia like the ones we've just discussed. Wondering if we work in your area? Check out our services area here. We'd love to hear about what you've got planned and talk about how we can help. Let's connect today!