Is An Outdoor Kitchen Really Worth It?
You've got a grill on your deck. Isn't that the same thing as an outdoor kitchen? We're usually only asked questions like this by folks who have never enjoyed a meal prepared in a well-designed outdoor kitchen. As a leading outdoor living space creator in Prince William, Fairfax, Loudoun County, and throughout Northern Virginia, Deckscapes of Virginia aims to provide a comprehensive guide on outdoor kitchens, their benefits, costs, and the value they can add to your home.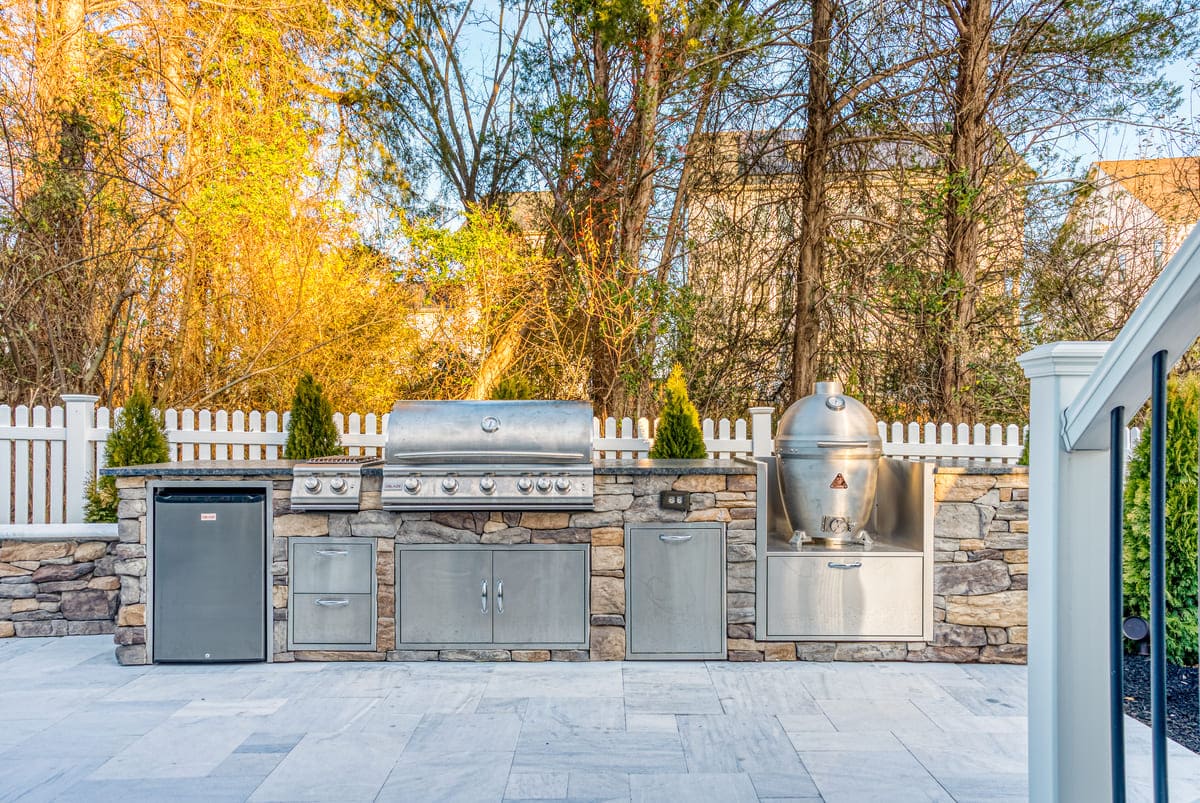 The Rising Popularity of Outdoor Kitchens
Outdoor kitchens have seen a surge in popularity over the past few years. More and more homeowners are recognizing the potential of their outdoor spaces and transforming them into functional, beautiful extensions of their homes. Outdoor kitchens are no longer just a luxury for the affluent; they're becoming a desirable feature for many homeowners who enjoy spending time with their loved ones outdoors.
The Benefits of an Outdoor Kitchen
Outdoor kitchens offer a unique blend of functionality and aesthetics, transforming your outdoor space into an inviting and engaging area for entertaining and relaxation. They provide a comfortable and convenient place to cook, dine, and socialize, all while enjoying the beauty of the outdoors.
An outdoor kitchen can incorporate many components, from sinks to fridges, smokers, power burners, and grills. They can also include shade structures like pergolas or simple sleeves for an umbrella. A wide array of veneer and granite countertops allow for a custom look, and the facade of the kitchen can incorporate PVC trim or decking products for cohesive coordination with other areas.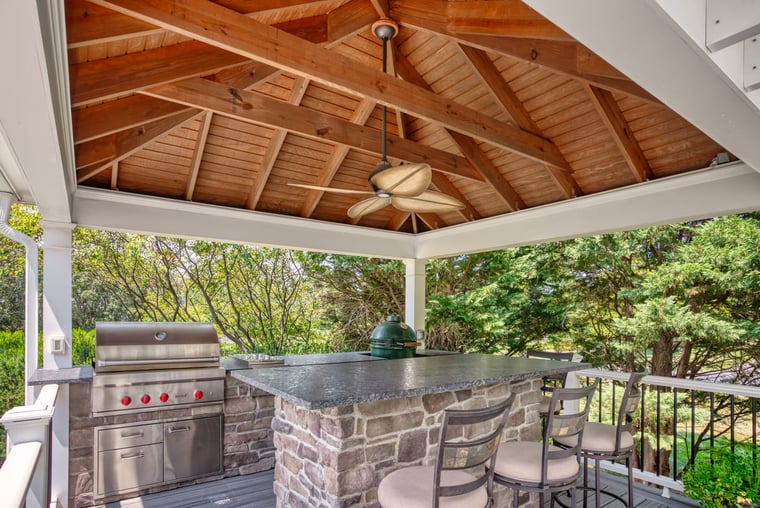 Deckscapes' Favorite Items to Install
We all have favorites, and for us, it's gotta be the grill. At Deckscapes, we believe that every outdoor kitchen should have a grill. We love to fit folks with the coolest tools to cook the food they love. Grills in your outdoor kitchen can include sophisticated components such as sear zones, smoke trays, and rotisserie back burners. We recommend Twin Eagles Grills for their quality and versatility. We also enjoy working with Delta Heat Grills products, including outdoor refrigeration and cabinetry.
Smokers are another favorite addition to our outdoor kitchens. We offer Primo ceramic units, known for their superior performance and durability. We also love an outdoor kitchen that offers a fridge to stash the supplies you need and keep cold drinks close at hand.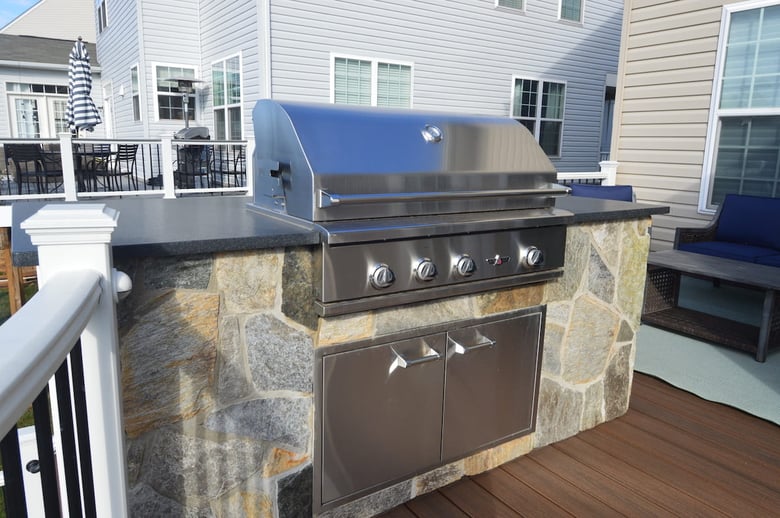 Our Outdoor Kitchen Must-Haves
Every kitchen we design is unique, but there are a few must-haves we recommend for every project. A grill or smoker is essential, depending on your preference and intended use. In addition to those big ticket elements, the details matter just as much. A professionally designed and executed outdoor kitchen includes access under the kitchen for storage and maintenance. We also often incorporate electric outlets to power grill lights, charge phones, power a blender, or speaker, enhancing the overall convenience and usability of the outdoor kitchen.
Outdoor Kitchen Costs
The cost to build an outdoor kitchen can vary significantly based on the design and components included. A simple 6' grill island with a grill and access doors could be as affordable as $8-10K. On the other hand, an outdoor kitchen with a grill, pizza oven, sink, fridge, etc., could be as high as $25K or more.
Curious about the cost breakdown of other elements of your outdoor remodel? Our online pricing calculator is here for you!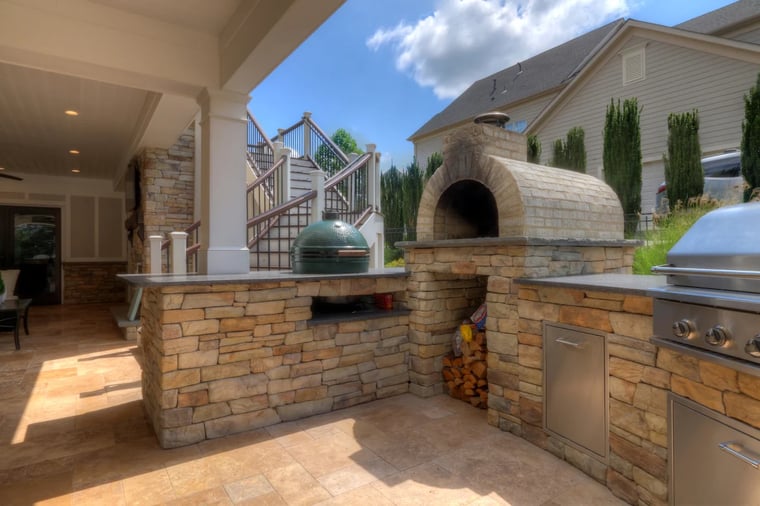 Permits and Regulations
Before you start building your outdoor kitchen, it's important to understand the local regulations and whether you need a permit to build an outdoor kitchen. A permit is required in many cases, especially if the project involves electrical or plumbing work. Deckscapes can handle the permit process and ensure your project complies with all local codes and regulations.
The Value of an Outdoor Kitchen
An outdoor kitchen is more than just a place to cook; it's an investment in your home and lifestyle. A well-designed outdoor kitchen can add significant value to your home, making it more appealing to potential buyers. However, the true value of an outdoor kitchen lies in the enjoyment and convenience it provides. Whether you're hosting a summer barbecue, enjoying a family meal, or simply relaxing with a cup of coffee, an outdoor kitchen can enhance your outdoor living experience.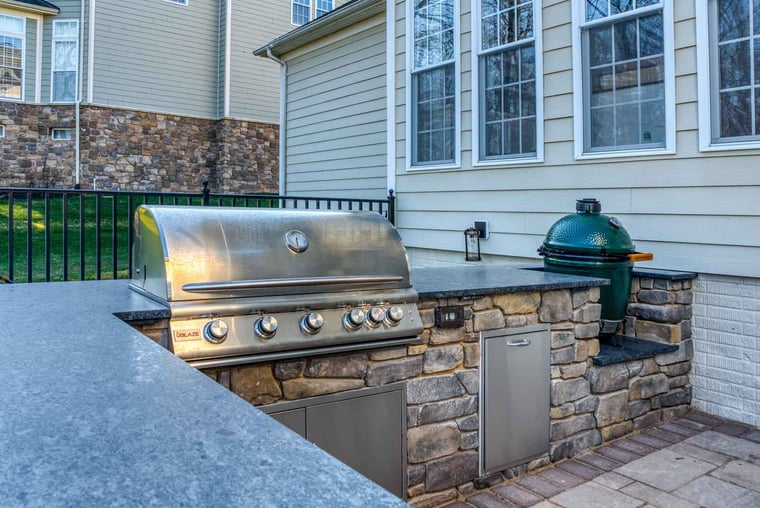 Deckscapes Makes Your Outdoor Kitchen Dreams Come True
Is an outdoor kitchen really worth it? The answer is a resounding yes if you value outdoor living, entertaining, and the potential to increase your home's value. Ready to start building your dream outdoor kitchen? Request your consultation today, and let us help you transform your outdoor living space.