Escape Outdoors—Pool Houses and Custom Pavilions
Reinvent the way you spend time outdoors by adding a custom pavilion or pool house to your Northern Virginia property. Pavilions offer flexible space for dining, relaxing, entertaining and enjoying the outdoors comfortably. You win more time outside because you are protected from the elements. Pool houses and pool cabanas are ideal for storing equipment, and they can serve as a guest house or changing room.
What to Know Before Building a Pool House or Pavilion
Not all contractors are qualified to build a pavilion or pool house. These structures can be complex and require the craftsmanship and attention to detail that an experienced pool house builder can deliver. (We have fixed many mistakes over the years.) The Deckscapes team of carpenters and tradespeople are well-versed in building pool houses and pavilions, from traditional and functional structures to complex, customized pavilion designs. Ask us to see a portfolio of pool house and pavilion projects to get ideas.
Pool House and Pavilion Features
You want your pool house or pavilion to suit your needs and not be a run-of-the-mill design that you see all over town. That's why you hire a full-service outdoor contractor like Deckscapes to design and install a pavilion or pool house based on how you'll use the space. Here are some pool house and pavilion features you might select:
Low-maintenance construction
Removable or retractable screens systems for your pavilion
Roof styles for your pool house or pavilion that match your home
Bathrooms and changing rooms
Outdoor bars and kitchens
Custom-built fireplaces or modern fire features
Flooring or decking options to match your patio or deck
Outdoor heating
Electrical packages and TV/AV systems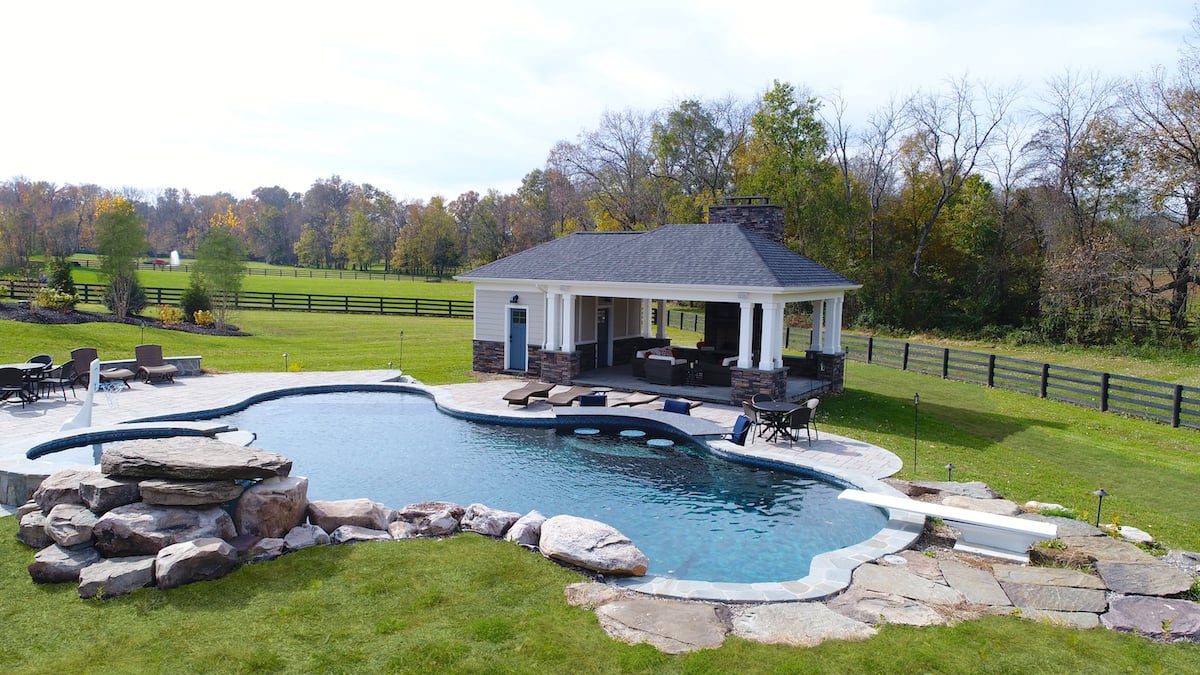 Complete the Space with Landscaping
What's different about hiring Deckscapes to build your pool house or pavilion vs. another builder is that we are a full-service outdoor living construction firm. We have landscape architects on staff, so we always think big-picture. While planning your pool house or pavilion, why not consider updating the surrounding landscape so you can enhance your great outdoors?
Call us for a consultation.
We look forward to listening to your ideas and sharing ways we have transformed backyards in Northern Virginia with custom decks and deck features. Contact us at 703.365.0747, or fill out this simple contact form and we'll get in touch with you.