What Is An Under Deck Drainage System & The Best Options For You
You're dreaming of a cozy nook under your deck, but judging from the puddles pooling underneath, you won't have much luck finishing the space. The culprit is clearly above you. Your existing deck is looking sad. Deteriorating decks are unsightly and, worse, unsafe. Poor deck drainage, or prolonged water where it shouldn't be, can cause serious trouble over time. You have two options when your deck constantly sends rain to the space below. You can build a new deck or fix the one you have. Intentional drainage for your deck extends its lifetime and creates new opportunities for using the space under your deck.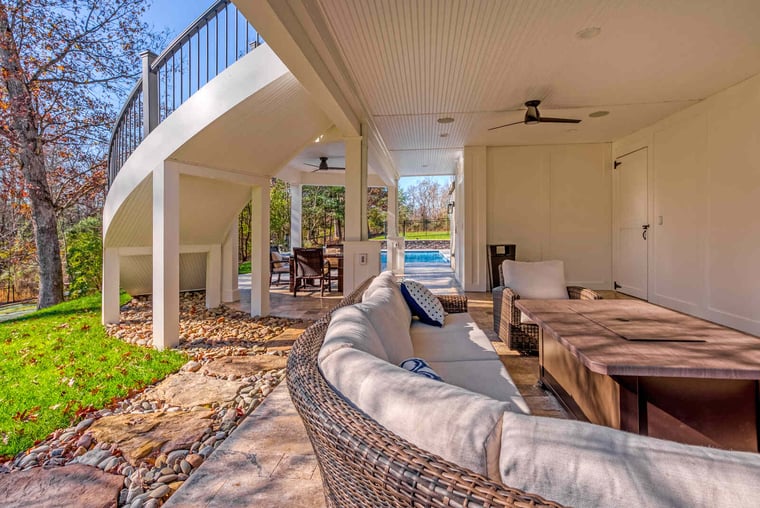 Deckscapes in Northern Virginia knows a few things about building fantastic decks–they're our expertise. We've seen our fair share of haphazard or poorly-executed under deck drainage systems during our work around the area, and we'd hate for you to lose opportunities for leisure or see your deck prematurely deteriorate. Enlisting professionals to design and create your water-diversion systems for outdoor projects is always advisable because of the potentially disastrous consequences of a mistake when waterproofing. Let's explore the world of under-deck drainage systems so you can make an informed call about waterproofing for your deck.
What is An Under Deck Drainage System?
Ever wondered how homeowners confidently include high-end electric devices in outdoor spaces? Waterproofing your covered outdoor spaces is vital to setting the scene for the ultimate outdoor lounging accessories, from TVs to ceiling fans. You can tell a deck includes an under deck drainage system when you spot a polished-looking ceiling on the living space underneath. Above this ceiling is an intentional design for diverting water from the deck.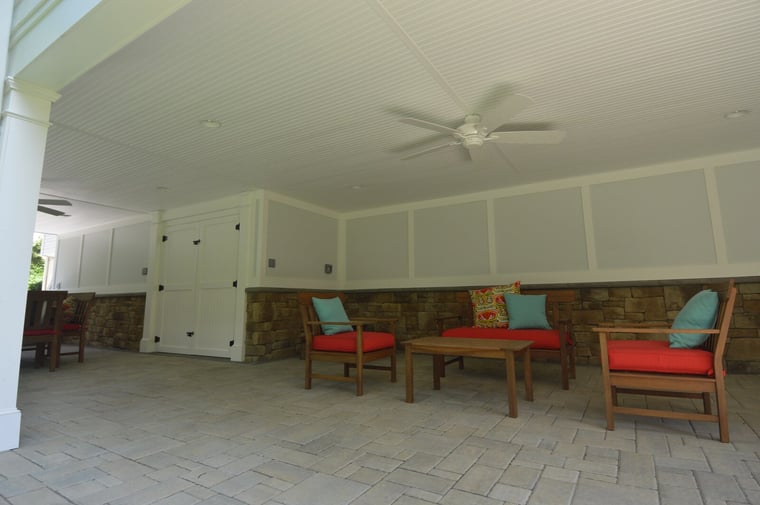 An under deck drainage system serves two purposes. First, it keeps your deck dry, reducing the risk of mold and rot. Second, an under deck drainage system ensures that the space below a second-story deck is dry and usable, even during heavy rain. Taking extra water-proofing steps opens up a world of possibilities for the living space below a second-level deck. You can store items confidently and install features that need to stay dry, such as a TV, outdoor kitchen, ceiling fan, and statement and recessed lighting. This expands the options for your eye-catching outdoor living space and increases the value of your home.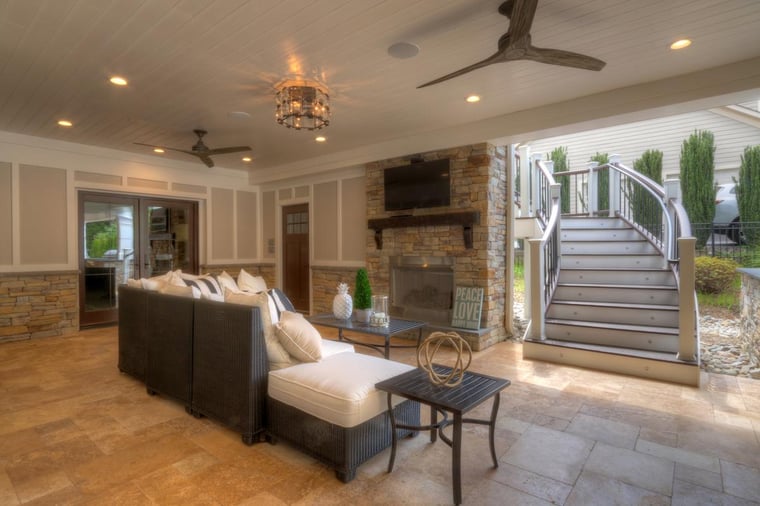 Under Deck Drainage System Options
We highly advise anyone considering a second-story deck to consider an under deck drainage system. Because of how you install under deck drainage systems, construction is the best time to include them. Though it's possible to install an under deck drainage system after the fact, it isn't ideal. Let's talk about why.
Below-Joist
Installing your under deck drainage system below the existing deck joists is your best option for an existing deck. If you are retrofitting an under deck drainage system, installing a below-joist system is your best option because you don't have to dissemble your deck to place the product. If you are building a new deck, a below-joist under deck drainage system may have some disadvantages. Water must run over your deck joists to reach your drainage system, which will contribute to rotting, warping, and wear over time. Because below-joist drainage systems create an enclosed space, this problem can be further exacerbated by humidity, so thoughtful ventilation is as vital as drainage for below-joist under deck systems, especially during the muggy Northern Virginia summers.
Above-Joist
When building a deck, you have a unique opportunity for waterproofing. Above-joist drainage systems create a waterproof barrier between your deck boards and joists to divert water strategically away from your deck. Water runs over your deck boards, hits the waterproof membrane, and never reaches your beams. This compact and elegant system makes installing a ceiling below your second-story deck easy. While creating this ceiling is part of the project for below-joist systems, above-joist under deck drainage is a completely separate endeavor from creating the ceiling itself.
Wondering about the cost of building a new deck? Let's dig into it! Our recent blog explores the factors contributing to a deck's cost and the price of popular additions to a deck project.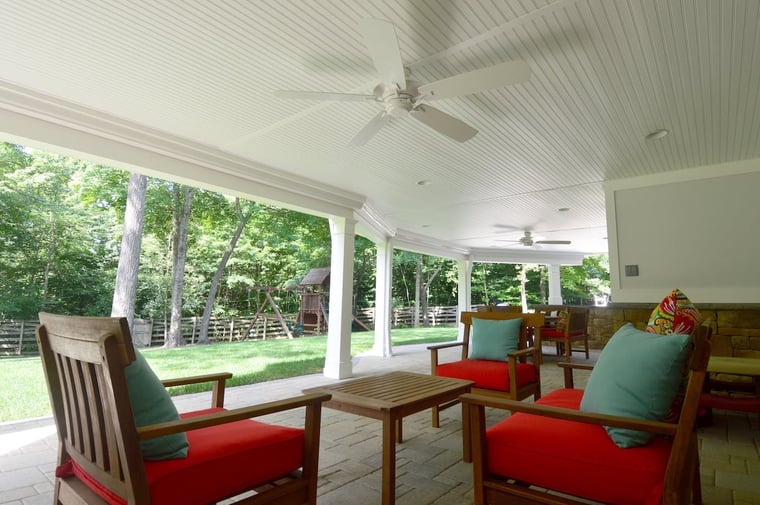 The Best Deck-Building Company in Northern Virginia
Your Northern Virginia deck-building company should be just that, a deck-building company. The nuances of creating your stunning outdoor space deserve expert execution. Decks are, unsurprisingly, our bread and butter here at Deckscapes. Our next-level design services and expert know-how create jaw-dropping decks that delight for decades to come. We'd love to partner with you to design and build your dream outdoor living space. Reach out to tell us about your deck desires and take the first step to make it real!