2023 Most Popular Deck Trends & Ideas
Building a beautiful deck expands your outdoor options and creates inviting spaces to gather and relax. Few popular outdoor living trends have as much staying power as a deck. It's difficult for a deck to go out of style, but we do notice certain elements rise and fall in favor, and new options arrive on the market. There's always something fresh to try, but plenty of ways to keep it classic.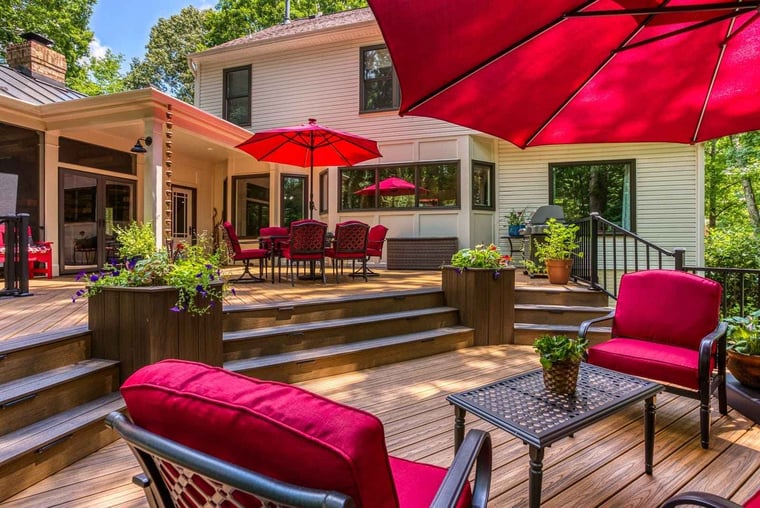 At Deckscapes, outdoor living spaces are our first love and only focus. We don't dabble in decks; we deliver them daily. There's something truly special about the versatility a deck provides. Decks support ever-changing decor and features that augment the space and offer creature comforts in the great outdoors.
Popular Deck Materials
Composite Decking
More and more clients are opting for modern composite decking, which is a manufactured product that combines plastic and wood fibers. Deckscapes will happily work with various products, but we're especially proud to be certified to design and build Trex Decks in Northern Virginia. We love working with this durable and versatile medium.
Wondering about the price of building a deck in Northern Virginia? We explore it further in our deck cost blog here.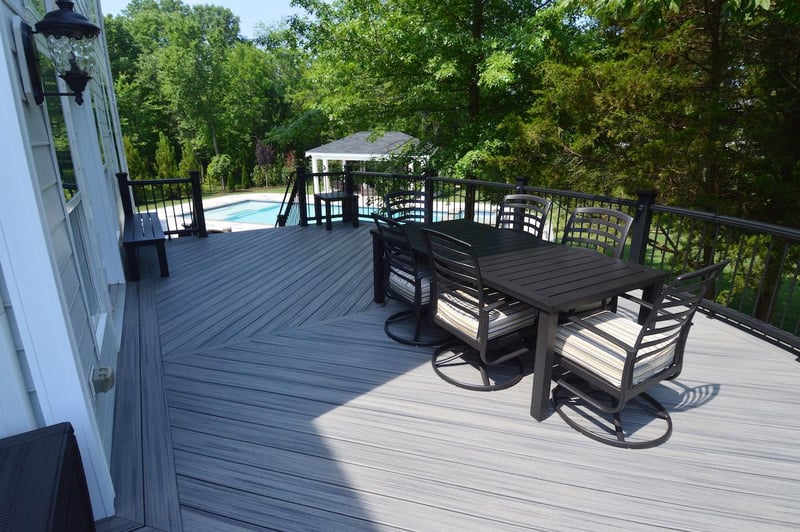 PVC Deck
Made from plastic, PVC is long-lasting and light. It comes in an array of attractive colors and style options. Though we don't build PVC decks every day, we do discuss them more often than we used to.
Deck Elements & Styles for 2023
Let's explore the different styles and features of decks we're building more frequently in 2023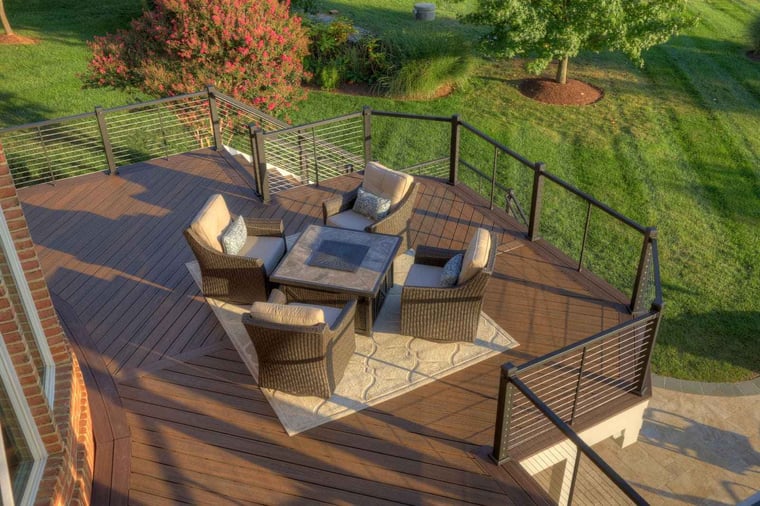 Dual and Lighter Tones
One popular trend in deck design is to use dual tones to add depth and dimension to your outdoor space. We're seeing more light browns and grays where we used to install darker decking. By using different colored decking boards for the main surface and the perimeter accents, such as railings and rail posts, or columns, you can create a stylish and unique look for your deck. Dual tones can help to visually define different areas of the space, such as a seating area or dining area, and can also provide a visual contrast that adds interest to the overall design. Consider using accent colors that complement or contrast with the primary decking color, depending on the style and mood you want to achieve.
Deck Facades
Keep your deck tidy and secure by including deck skirting to close off the space below your raised deck and the ground. No, we don't mean lattice! Solid paneling of several mediums is the current tread. This allows for concealed and convenient storage and discourages freeloading critters. Continue the same fascia material or add another element, such PVC/concrete paneling or siding, to tie your deck to the rest of your home.
Decking Patterns
When it comes to designing a deck, the layout and orientation of the boards can have a big impact on the overall look and feel of the space. One popular trend in deck design is to use a variety of laid patterns to create visual interest and add texture to the surface of the deck. Here are a few different inlaid patterns to consider:
Horizontal:

This is the most common laid pattern for decking boards, with the boards running parallel to the edge of the deck. Horizontal decking gives a clean, modern look and can help to visually elongate the space.



Diagonal

: For a more dynamic look, consider laying your decking boards diagonally across the deck. This pattern can help to break up the monotony of a large expanse of decking and creates a sense of movement and flow.



Herringbone

:

This pattern involves alternating the direction of the boards in a zigzag pattern, creating a distinctive and eye-catching design. Herringbone patterns work well in smaller, more defined areas of the deck, such as a seating nook or outdoor kitchen.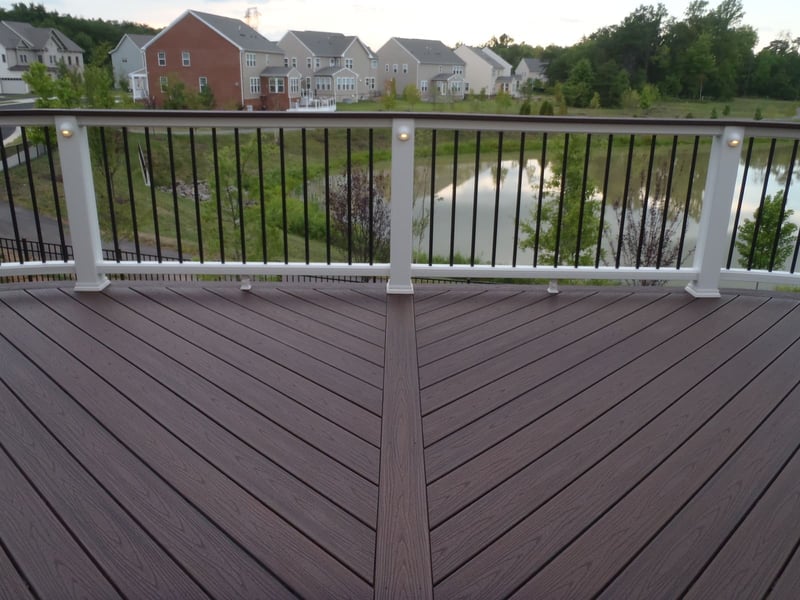 Picture frame:

This pattern involves using a contrasting color to create a border around the perimeter of the deck, framing the main decking area. Picture frame patterns can add visual interest and create a sense of definition to the space.



Parquet

: Similar to a herringbone pattern, parquet patterns use small squares or rectangles of decking boards to create a more intricate design. Parquet patterns are often used as accents or focal points within the deck design.
Multiple Levels
Adding multiple levels to your deck design not only creates visual interest but also provides additional space for entertaining and relaxing. Consider incorporating a dramatic staircase to connect the different levels of your deck and create a seamless flow between outdoor areas. Whether you opt for a sweeping spiral staircase or a more traditional design, a well-designed staircase can add both function and beauty to your deck space.
Custom Lights
One popular trend in deck lighting is to incorporate a mix of different types of fixtures to create a layered and dynamic lighting scheme. For example, you might use step lights to illuminate the stairs leading up to your deck, path lights to highlight walkways and landscaping, and overhead string lights or lanterns for a cozy and whimsical ambiance.

Eco-friendly and energy-efficient LED lights are a great option, as they use less electricity and have a longer lifespan than traditional incandescent bulbs. Additionally, you can install smart lighting systems that allow you to control your deck lights remotely using your phone or other smart devices.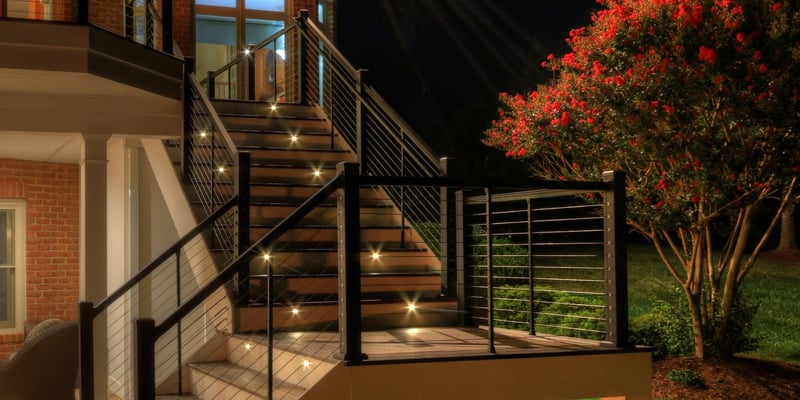 If you're looking for a more dramatic effect, consider adding accent lighting to specific features of your deck, such as built-in seating, planters, or additional details. This can help to create a focal point and draw the eye to key areas of your outdoor space.

Finally, don't be afraid to have fun with your deck lighting! Color-changing lights that can be programmed to switch between different hues and intensities are a great way to add some personality and flair to your deck. You might even consider incorporating lighting fixtures that change color in response to music or other stimuli, creating a truly immersive experience for you and your guests.
Pergolas and Shade Features
Pergolas and other shade structures are a great way to add both style and functionality to your deck. Not only do they provide relief from the sun and protect you and your guests from the elements, but they can also serve as a beautiful focal point for your outdoor space. Here are some things to consider when incorporating a pergola or other shade feature into your deck design: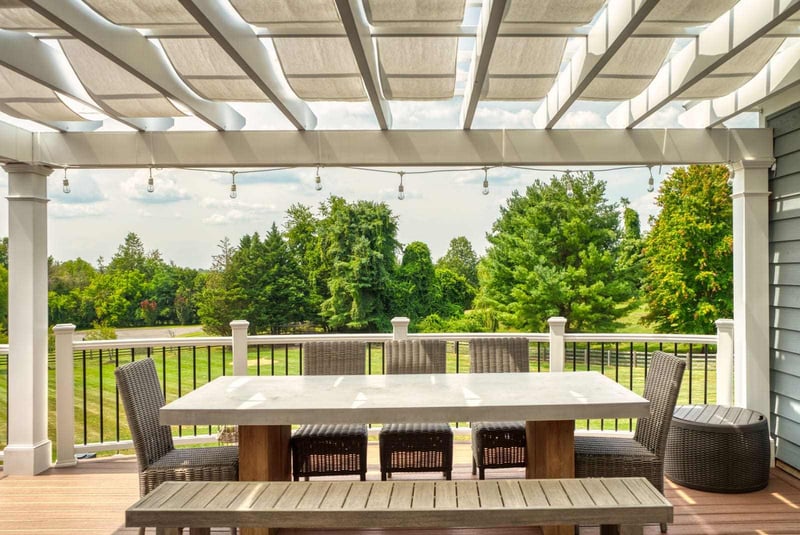 Material: Pergolas and other shade structures can be made from a variety of materials, including wood, vinyl, and aluminum. Each material has its own advantages and disadvantages in terms of durability, maintenance, and aesthetic appeal, so be sure to choose the option that best suits your needs and budget.

Design: Pergolas and other shade features come in a wide range of designs, from simple and minimalist to ornate and elaborate. Consider the style of your home and outdoor space when choosing a design, and think about how the structure will complement your existing landscaping and outdoor furniture.

Cutting Edge Technology: Some shade structures, such as those offered by StruXure, offer motorized louvers, allowing you to easily open and close the louvers or other shading elements with the touch of a button. This can be especially convenient during months with variable weather conditions or if you want to easily adjust the amount of shade throughout the day.

Lighting: Adding lighting to your shade structure can help to create a cozy and inviting ambiance for nighttime entertaining. Many pergolas and shade structures come with built-in lighting options, or you can add your own fixtures to create a customized look.
Under-Deck Utility
Building a second-story deck is a great way to expand your outdoor living space and create a luxurious retreat for your family and guests. With the right design and materials, you can create a stylish and functional deck that not only provides stunning views but also offers added living space and storage options.

One of the key benefits of a second-story deck is the ability to create under-deck living and storage areas. By installing a proper drainage system, you can transform the space underneath your upper deck into a covered patio or outdoor living room, complete with comfortable seating, lighting, and other amenities. This can be an ideal spot for entertaining guests, enjoying a quiet moment of relaxation, or simply storing outdoor equipment and furniture.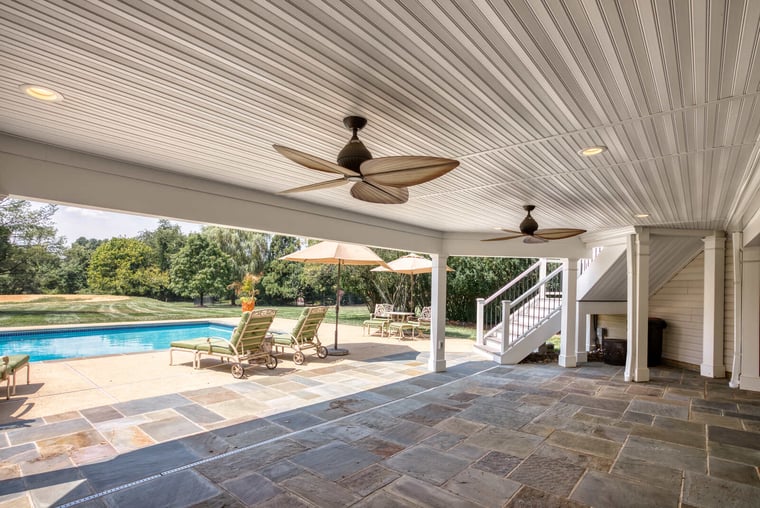 In addition to the added living space, a second-story deck can also provide a sense of privacy and exclusivity. Access to the upper deck can be limited to select guests, creating a VIP area that adds a touch of luxury to your outdoor space. Whether you use the upper deck as a private oasis for yourself or as a space to entertain close friends and family, it can be a valuable addition to your home that adds both function and style.
Curves and Shapes
Why be square? We see more deck designs meander in a gentle curve rather than take sharp turns. With many architectural features leaning toward graceful bends, it's no surprise sleek decks are following suit.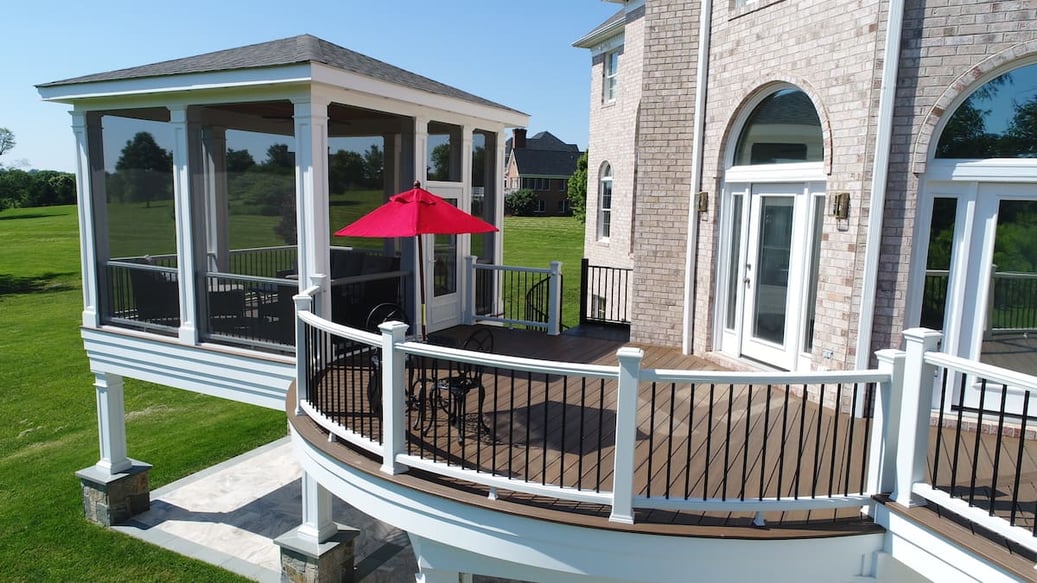 Fire Bowl/Fire Feature
Fire features such as fire bowls and statement fireplaces are a great way to create a focal point on your deck, adding both visual interest and functional warmth. A well-designed fire feature can transform your deck into an outdoor living room, complete with comfortable seating, lighting, and other amenities. It can provide a cozy atmosphere for relaxing or entertaining guests and can be an ideal spot for roasting marshmallows or cooking over an open flame. Whether you opt for a sleek and modern design or a more rustic, natural look, a statement fire feature can add both style and substance to your deck.
Outdoor Kitchens
Outdoor kitchens have become increasingly popular for decks because they offer the convenience and luxury of cooking and entertaining outdoors. With an outdoor kitchen on your deck, you can prepare and serve meals without having to constantly run back and forth between your indoor kitchen and outdoor living area. This not only saves time and effort, but also creates a more relaxed and enjoyable atmosphere for you and your guests.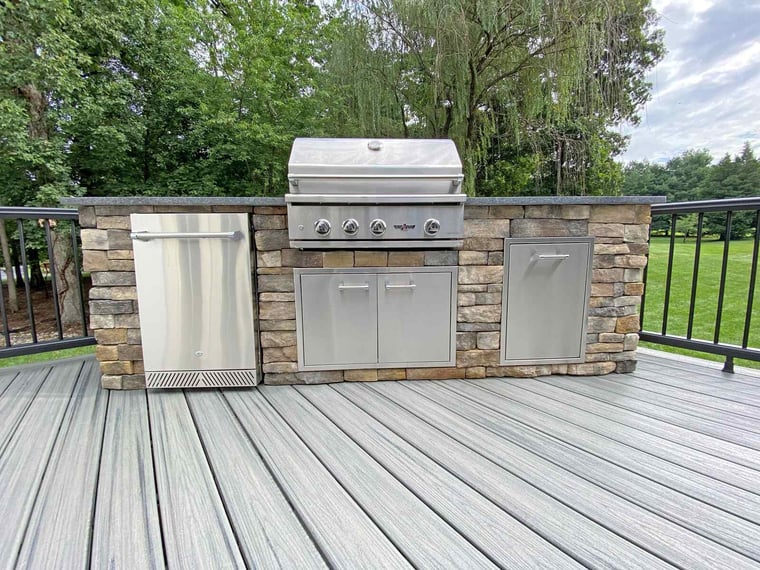 You can customize your outdoor kitchens to suit your unique needs and preferences, from simple built-in grills and refrigerators to fully equipped kitchens with sinks, stove tops, and even a pizza oven. This flexibility allows you to create a space that fits your lifestyle and cooking style, whether you're a grill master or a novice hotdog flipper.
Deckscapes Does Northern Virginia Decks Right
Ready to create the outdoor space of your dreams in Fairfax, Ashburn, Manassas, or another area of Northern Virginia? Deckscapes is here to help you create something spectacular. Reach out to tell us more about the outdoor living space and features you've got in mind.