Go Off the Beaten Path with a Deckscapes Patio
We invite you to take a different path to building your new patio. Step outside the box of the typical patios you've seen, or might already have in your back yard. Deckscapes is a custom builder of patios including environmentally friendly permeable paver patios, natural stone patios and paver surfaces. A fantastic patio can redefine your home and tie in all the elements of your outdoor living space.
What to Consider When Building Your Virginia Patio
We like to get to know your property first and how you enjoy spending time outside. We consider your home design and existing landscape elements. And, we share information about the many patio materials that can be used to design and build a custom space. Do you need a pathway, too? What about steps, walkways, hardscape walls and lighting to enhance your patio area? Before we design, we discuss. And, we listen. After all, this is your patio and our mission is to create a space that's perfect for you.
You Only Need One Patio Contractor
Because Deckscapes handles every step of the patio building process, you only need one contractor—one source, one point of contact. It simplifies what could be a complex process. You know who to call with questions, and you get to know the team that is on your property
Patio Features
Patios are so much more than a surface for your table, chairs and grill. There are many custom features we build into patio spaces that improve functionality, look great, reduce maintenance and give you flexibility.
Permeable paver patios: Sustainable permeable pavers help manage stormwater runoff and are an environmentally-friendly alternative to traditional pavers or stone.
Paver patios: Pavers are available in a range of styles and can be laid in attractive patterns, giving your patio a unique look that matches the style of your home.
Flagstone patios and walkways: Natural stone blends in with your outdoor living space and lends a rustic appeal. Natural rock outcroppings can create walls for privacy or growing plants. Stone walkways can connect a patio to a garden, deck, gazebo or pavilion. Natural stone is available in a range of colors, shapes and patterns—no two alike.
Driveways and walkways: We install permeable paver driveways that improve stormwater run-off and custom driveways and walkways made from pavers.
Garden walls and retaining walls: Hardscape retaining walls create more usable space for planting or seating, while dividing outdoor living areas or addressing grading issues.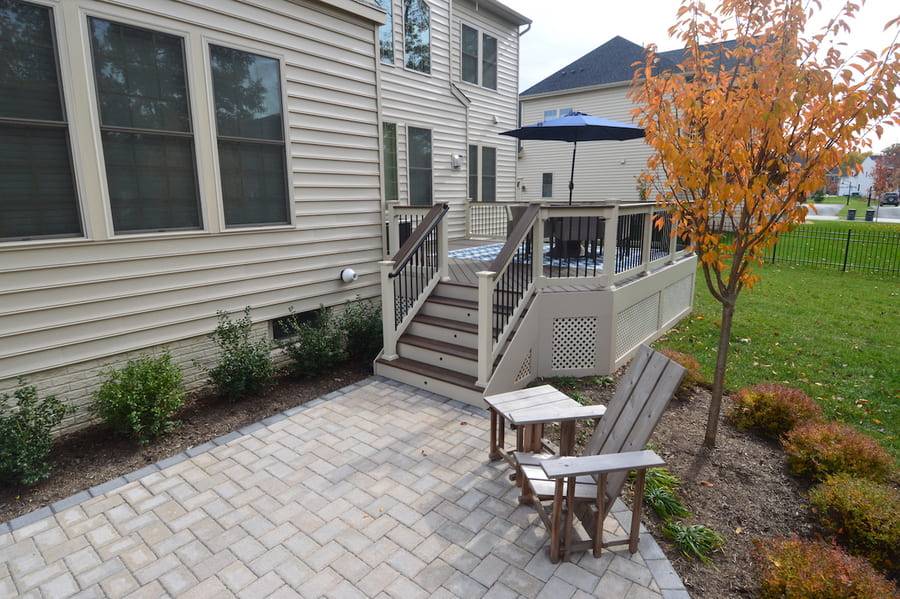 Add Lighting to Your Patio
Patio and walkway lighting improves security on your Virginia property and allows you to enjoy your landscape after dark. Deckscapes installs professional-grade landscape patio lighting to illuminate walkways, signs, landscaping and architectural features.
Call us for a consultation.
Contact us at 703.365.0747, or fill out this simple contact form and we'll get in touch with you.