How to Create a Backyard Oasis in Fairfax
The perfect place to enjoy the beautiful Northern Virginia scenery might be closer than you think. Creating a backyard oasis is not just accomplished by planting a few flowers or setting up outdoor furniture; it's about curating a space that mirrors your personality, complements your lifestyle, and seamlessly integrates with the architectural nuances of your home. Accomplishing a perfectly curated backyard paradise isn't easy, but Deckscapes is here to lend our expertise to walk you through our air-tight planning and preparation for success.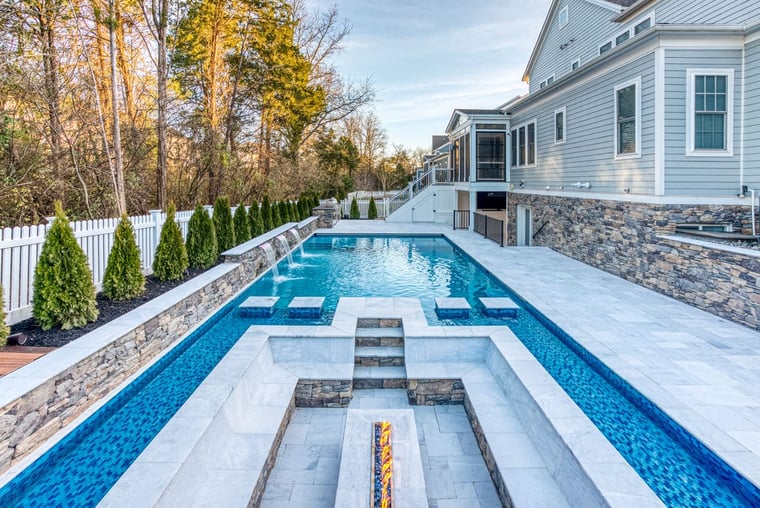 Design Features
Crafting the perfect backyard oasis begins by identifying the primary features you want to incorporate. These elements serve as the building blocks of your outdoor space, each bringing its unique charm and functionality and offering unique opportunities for design and creativity. Some of these key features are outlined below.
Deck: A deck serves as an extension of your indoor living space and provides an elevated view.
Flagstone Patio: This natural stone offers an elegant touch to any backyard. Ideal for gatherings or sunbathing, its timeless appeal enhances any outdoor setting.
Porch: An intimate space to enjoy the outdoors, a porch provides shelter and comfort. Whether for watching rainstorms or enjoying a cool breeze, it's a versatile addition.
Pool: Beyond just a place for swims, a pool can be the centerpiece of your backyard entertaining and recreation plan.
Fire Pit: A gathering spot during chilly nights, fire pits bring warmth and ambiance. They're perfect for marshmallow roasting or late-night storytelling.
Outdoor Kitchen: Create a dedicated workspace for al fresco dining and entertaining. Grills, workspace, sinks, refrigerators, and more allow you to easily reach new culinary heights and entertain.
Explore our top recommendations for outdoor features here.
Design Style
After you identify your elements, it's time to choose a design style that complements the architecture of your home and surrounding landscape and aligns with your personal tastes. Here are some popular options for your outdoor design aesthetic.
Modern Designs: Clean lines and a minimalist approach define modern aesthetics. This style emphasizes simplicity and sophistication.
Contemporary Looks: A fusion of the old and new, contemporary designs are ever-evolving, capturing the essence of the present.
Rustic Styles: For those who love a touch of nostalgia, rustic designs bring the charm of the countryside, emphasizing natural materials like stone, timber, and earthy tones.
Vintage Themes: Transporting you to a different era, vintage designs capture the essence of specific decades, be it the elegance of the '20s or the vibrancy of the '60s.
Tropical Retreat: Think of lush greenery, bamboo furniture, and tiki torches. This style brings the vacation vibes right to your backyard.
Mediterranean Oasis: Characterized by terracotta tiles, bright colors, and ornate details, this outdoor style evokes the charm of the European coast.
Site Inventory
Taking the time to thoroughly assess and understand your site's specific conditions ensures that your beautiful backyard oasis is also functional and sustainable. This step lays the groundwork, ensuring your dream space becomes a reality that stands the test of time.
Home Architecture: The design and structure of your existing home play a pivotal role. Window placements, door locations, rooflines, and vents can influence the layout and design of your outdoor space.
Terrain: The natural slope, contours, and elevation of your land can dictate certain design choices. For instance, a sloped yard might be perfect for a multi-level deck or a terraced garden.
Utilities: Being aware of underground utilities, such as gas lines, water pipes, and electrical cables, is essential to avoid disruptions and ensure safety during construction.
Existing Vegetation: Mature trees, shrubs, and other plants can be incorporated into the design, adding shade, privacy, and natural beauty. They can also influence where certain elements, like pools or patios, are placed.
Drainage Patterns: Understanding how water flows and drains in your yard can help in designing features that avoid, utilize, or redirect this water, ensuring that your oasis remains unaffected during heavy rains.
Easements & Restrictions: It's essential to be aware of any legal restrictions, such as property easements, that might limit where and how you can build.
Sun & Wind Patterns: Knowing where the sun shines brightest and where the winds hit hardest can influence the placement of features like pergolas, privacy screens, pools, or outdoor kitchens.
Creating a Concept
Once you've gathered all the essential information about your site, the next step is to bring your vision to life through a conceptual design. This phase is where creativity meets practicality, ensuring your dream backyard is personalized, stunning, and functional. This is by far the most difficult step in planning an outdoor oasis, and it's in the customer's best interest to hire a professional that's well-versed in tackling challenges every design can present. This phase is the blueprint of your backyard oasis, setting the stage for the transformation to begin.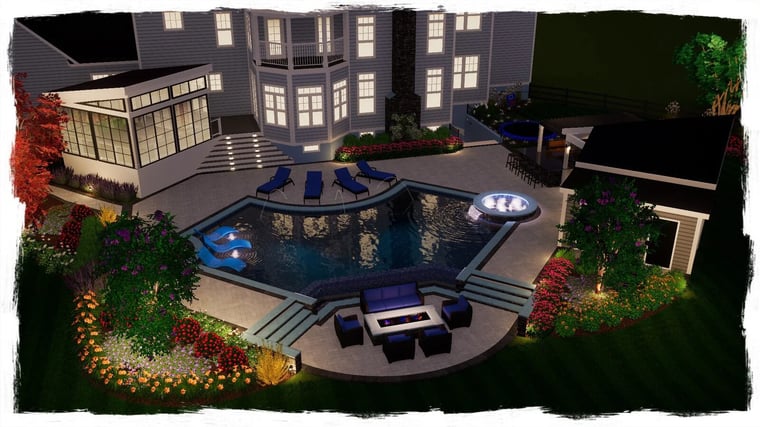 Presentation
The presentation stage is a bit different for each company, so we'll speak to Deckscapes' process for showcasing the design. It's about building trust, ensuring clarity, and setting the foundation for a successful transformation.
Visual Aids: Utilizing tools like 3D models, sketches, and mood boards, professionals can offer a tangible representation of the proposed design. These visual aids illustrate spatial arrangements, aesthetics, and overall feel of the space.
Detailed Plan: A comprehensive design breakdown includes specifics about each element, from the deck's size to the pool's depth. This ensures clarity and sets clear expectations.
Cost Estimation: Alongside the design, we present a detailed proposal for construction costs. This provides transparency and helps in making informed decisions regarding any modifications or additions.
Feedback Loop: An open channel for feedback ensures that any concerns, suggestions, or changes are addressed promptly. This iterative process ensures the design evolves to perfectly match your vision.
Timeline Projection: A tentative timeline for the project, from commencement to completion, gives you an idea of what to expect and helps you to plan accordingly.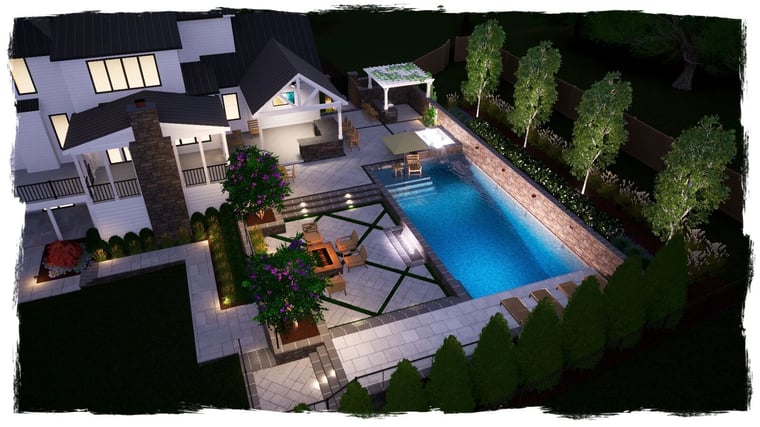 Partner With The Backyard Experts
Creating the perfect backyard oasis in Fairfax requires meticulous planning, a fusion of creativity and practicality, and the expertise of seasoned professionals. Deckscapes of Virginia understands the nuances of crafting outdoor spaces that resonate with individual tastes while ensuring functionality. Partnering with us ensures that your vision transforms into a reality, resulting in an outdoor retreat tailored just for you. Ready to bring your dream oasis to life? Contact Deckscapes to schedule your consultation.