Which Type of Pool Is Best for You?
Diving into the cool, refreshing water of a personalized pool on a hot summer day is a dream for many Northern Virginia homeowners. Choosing the right pool for your home is a significant decision. It's not just about the initial investment but also about the long-term enjoyment and value it will bring to your home and lifestyle. Before you can enjoy this backyard oasis, there's a crucial decision to make: which pool is best for you? With various types, shapes, and finishes to choose from, you could be drowning in the details. Deckscapes of Virginia is here to simplify the process, providing you with essential insights and factors to consider, ensuring your new pool is a perfect fit for your home, lifestyle, and budget. Let's dive in!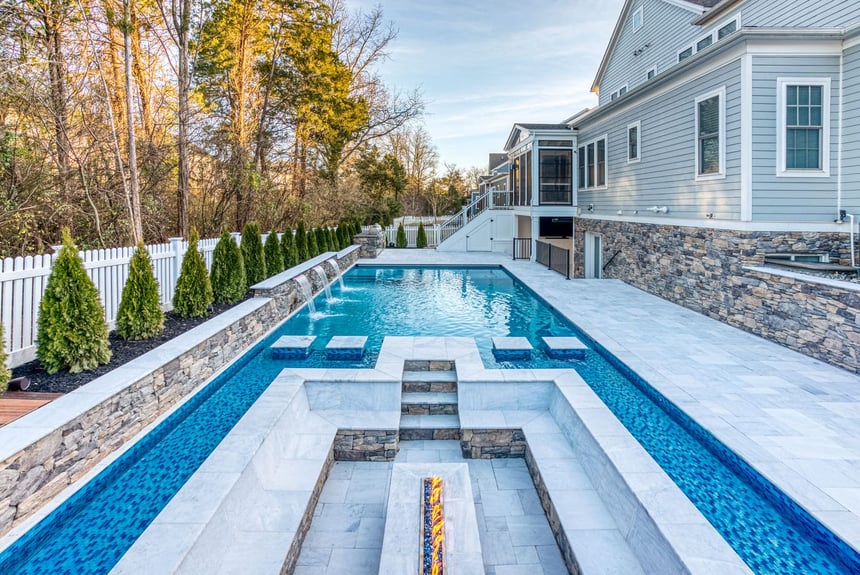 What Are Gunite Pools?
Gunite pools are a popular choice for in-ground pools due to their durability and flexibility in design. Unlike fiberglass pools, which are pre-molded, gunite pools are constructed on-site, allowing for a variety of custom shapes and sizes. The gunite process involves putting dry concrete into a hopper where it is forced through a hose. At the end of this hose a nozzle controls the addition of water where the materials fully mix before reaching there host surface. The gunite mixture is sprayed over a framework of steel bars, which is then smoothed and left to harden. The result is a strong reinforced concrete shell that can be finished with plaster, tiles, and coping. At Deckscapes, we specialize in gunite pools, offering a range of design options to suit your needs.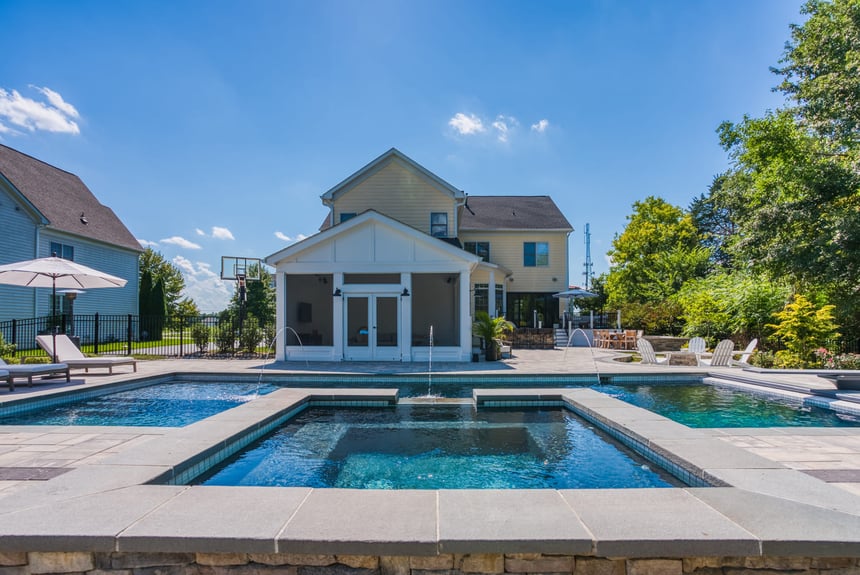 Pool Shapes
The shape of your gunite pool can greatly influence its aesthetic appeal and functionality. Here are three main categories of pool shapes to consider when curating your backyard vibe.
Freeform: These pools have curves and irregular shapes, like kidney or oval, which can blend seamlessly with a natural landscape.
Geometric: These pools feature different angles but straight lines, such as 'L' shaped pools. Geometric pools often appeal to a modern aesthetic with clean lines.
Rectangular: These are traditional pools with a simple rectangular shape. However, the interior can include different shapes or geometry for added interest.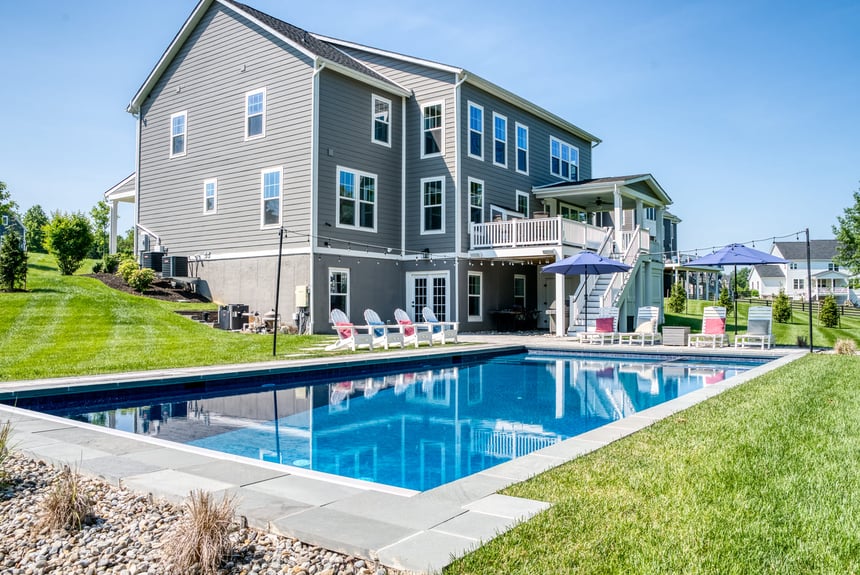 What Shape Works Best for Your Space?
With a pool often being the largest focal point of any outdoor living space, it needs to blend seamlessly with the architecture of the home and surrounding design elements, such as a patio, deck and porch. Freeform pools are ideal for irregular lots and blend well with natural landscapes. On the other hand, geometric and rectangular pools align better with modern aesthetics, offering clean straight lines. If you're considering an automatic cover, a rectangular pool is required. It is important to consider the shape of your pool as to how it sits within your overall design concept.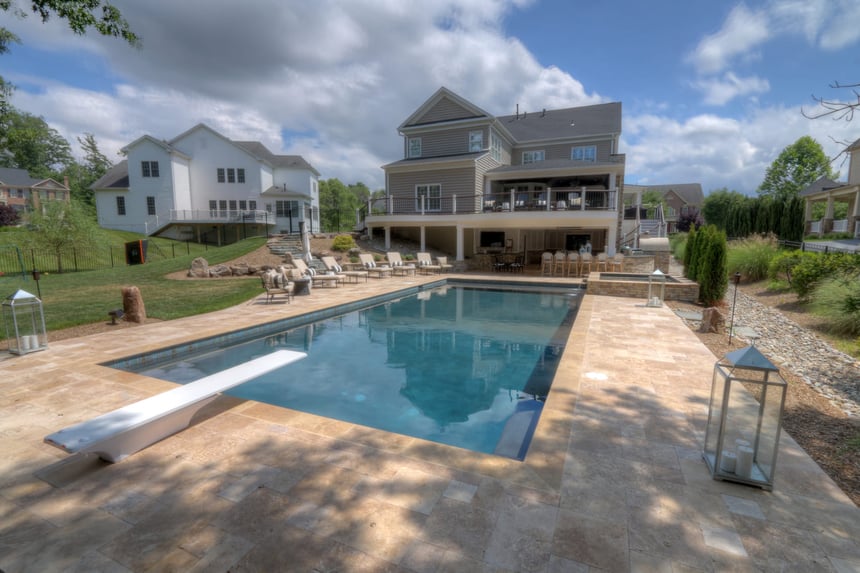 Pool Finishing Options
The finish of your pool can significantly impact its look and feel. Gunite pools consist of three main finished material components: plaster (pool finishes), tile, and coping.
Plaster: This is the most common pool finish and comes in a variety of colors. One popular option is Diamond Brite plaster, known for its durability and rich, textured appearance. Other options include PebbleTec, Marquis and basic white plaster finishes.
Tile: Tiles can add a touch of elegance to your pool. Aquabella is a popular choice for its wide range of designs and colors. Tiles are offered in varying shapes from 6"x6" to 2"x2" and can be porcelain, glass, or natural stone.
Coping: This is the material used to cap the pool shell wall. Options range from natural stone to pavers, each offering a unique look and feel.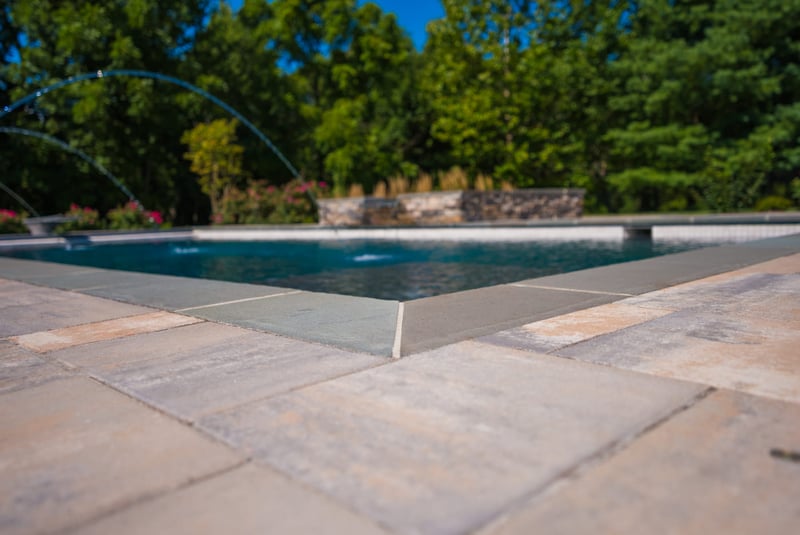 Remember, the choice of materials can affect not only the aesthetics but also the lifespan and maintenance requirements of your pool.
Pool Construction Process
Building a pool is a multi-step process that begins with design and ends with the finishing touches. After the design phase, the next step is obtaining the necessary permits. Once approved, the construction phase begins, which includes excavation, steel installation, plumbing and electrical work, and the installation of the gunite. After the base structure is complete, the finishing touches such as tile, coping, and plaster are added. The entire process can take anywhere from 8 to 12 weeks on average, depending on the complexity of the design and any potential delays in obtaining permits or facing unexpected challenges during construction.

Factors to Consider When Selecting Your Pool
When choosing a pool, consider the following factors:
Size and Shape: These should be determined by the available space and the aesthetic of your home.
Material: Gunite, fiberglass, and vinyl are common materials, each with its own pros and cons.
Finish: The finish can affect the look, feel, and maintenance requirements of your pool.
Additional Features: Consider if you want additional features like a spa, waterfall, or sun shelf.
Budget: The cost can vary greatly depending on the size, material, finish, and additional features.
Lifestyle Needs: Consider features that make pool care easier such as an automatic cover or heater, or provide for intended use, such as an extended shallow section or room for laps.
Local Regulations: Ensure compliance with local building codes and permits.
Wondering what you might pay for the pool and outdoor remodel you've got planned? Our cost calculator helps you budget with the features you want to include.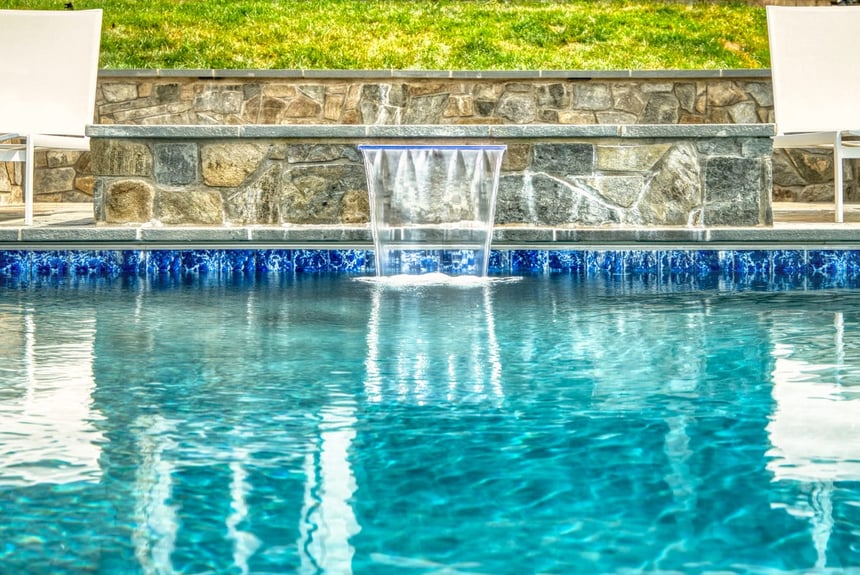 Seasonal Considerations for Pool Construction
When planning your pool construction, consider the time of year. Building a pool during the off-season may offer more availability and potentially lower costs. However, weather conditions can impact the construction timeline. Consulting with a professional gunite pool company like Deckscapes can help you determine the optimal time to start your project, ensuring a smooth construction process and timely completion.
Deckscapes Creates Your Perfect Pool
At Deckscapes, we understand that a pool is more than just a place to swim—it's a place where memories are made. We're here to help you create the perfect pool and outdoor living space for your home. Contact us today to schedule a consultation and start your journey to the perfect backyard oasis.