How Long Does It Take to Build a Pool?
Dreaming of having your own backyard oasis with a sparkling pool? Building a pool is an exciting project that can fundamentally upgrade how you relax and play at home. However, it's natural to wonder about the timeline for pool construction. Deckscapes is here to delve into the process, factors, and timelines when we build a pool and everything else you need to create your backyard paradise in Northern Virginia. We want you to have all the information you need to plan your pool project effectively. Throw on your swimsuit and lather on the sunscreen! Let's dive in and explore the fascinating world of pool construction!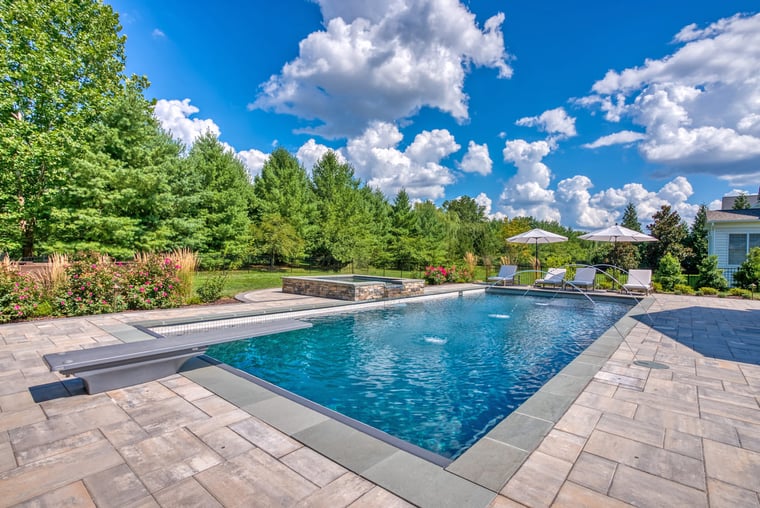 What is a Gunite Swimming Pool?
Gunite pools offer a plethora of benefits that set them apart from other pool options. Most prominently, they are renowned for their exceptional durability. The combination of cement and sand, sprayed onto a reinforced steel framework, forms a robust shell that can withstand the test of time. Unlike other pool materials that may deteriorate or require regular maintenance, gunite pools exhibit remarkable longevity, ensuring that your investment lasts for years to come.
Design Flexibility
As skilled pool builders, we understand the importance of creating a pool that aligns with your unique vision. Gunite's versatile nature allows us to shape and contour the pool according to your preferences, resulting in a truly customized swimming experience. Whether you desire elegant curves, modern designs, or intricate detailing, gunite pools provide the flexibility to bring your dream pool to life.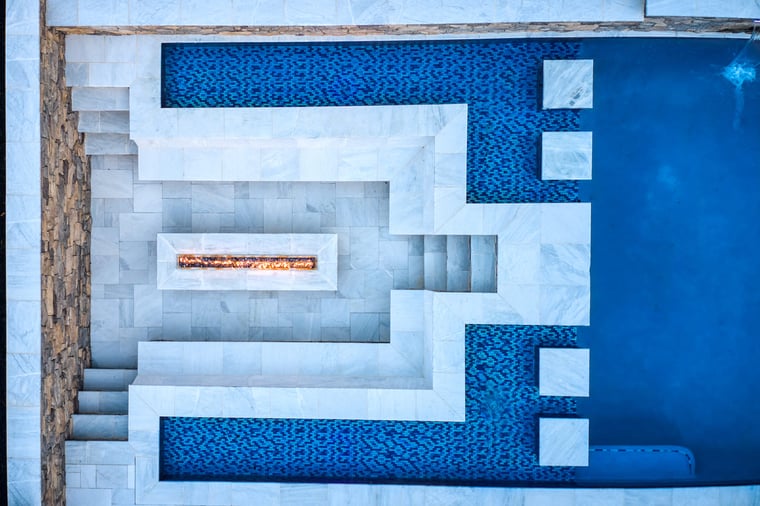 Value
Gunite pools offer excellent long-term value. The durability and customizable features of gunite make these pools highly desirable to potential homebuyers. By investing in a gunite pool, you not only enhance your enjoyment of your outdoor space but also increase the overall value of your property.
Strength
Gunite pools boast superior structural integrity, allowing for endless design possibilities, including vanishing edges, beach entries, and custom water features. The gunite construction process ensures a seamless and smooth finish, providing a luxurious and inviting surface for swimming and relaxation.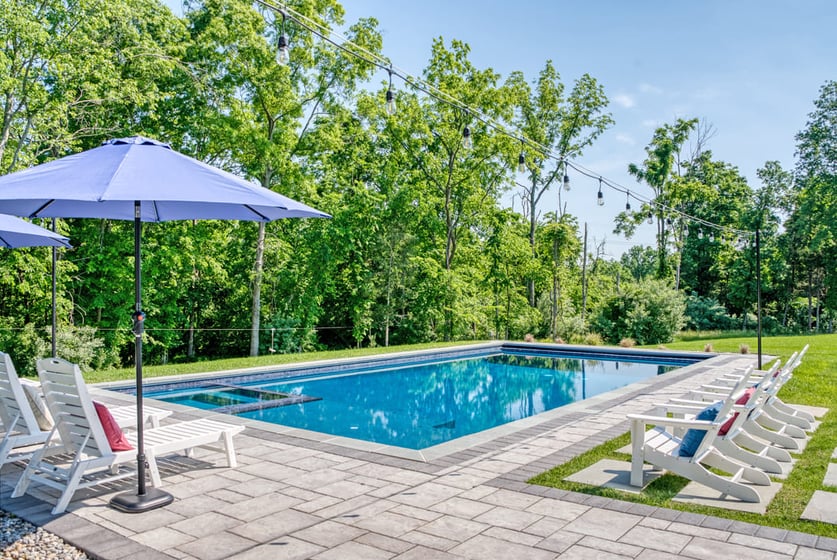 How Are Gunite Swimming Pools Installed?
At Deckscapes, we pride ourselves on our expertise in constructing gunite pools, which results in durable and customizable swimming pools of any size and depth. Our meticulous construction begins with carefully excavating the area and installing the exterior framework for the actual installation of the gunite. With the base frame in place, we meticulously position rebar, which serves as the reinforcement for the pool structure and integrate plumbing within the areas as required by the design. Once this infrastructure is in place, our skilled team sprays a mixture of cement and sand, known as gunite, onto the rebar frame. This process requires precision and attention to detail as we carefully apply the gunite to create the desired shape and contours of the pool. Afterward, we skillfully smooth out the surface to ensure a seamless and visually appealing result. We then allow the gunite to dry and cure completely. During the curing process the waterline tile and coping material are installed around the perimeter of the gunite shell.
With the coping in place, surrounding pool construction begins. These processes include providing electrical service to the pool equipment and installing the surrounding patio, carpentry or landscape elements as your design requires. The scope of work around your pool dictates how long these processes will take, which can range from weeks to months. At the tail end of your build a plaster finish is installed, transforming the rough gunite surface into a stunning and inviting swimming pool. With plaster installed, it's time to fill the pool with water, turn on the pumps and enjoy!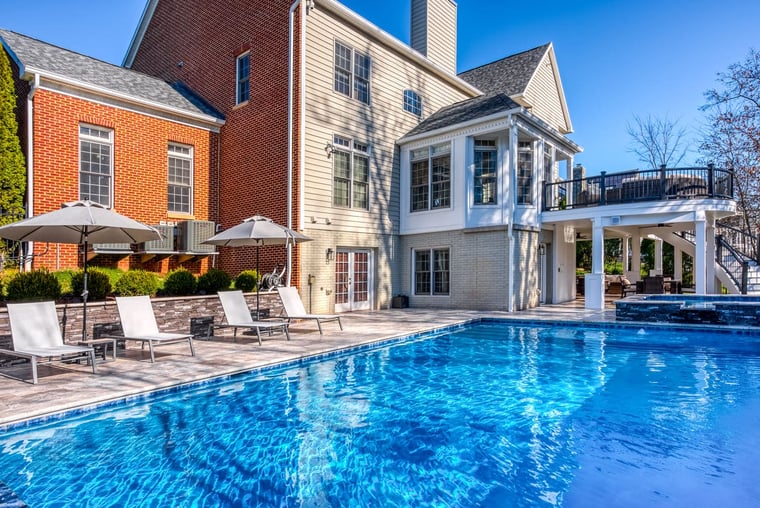 Factors Affecting the Timeline for Pool Construction
Several factors, including the scope of the project and the specific elements involved influence the duration of pool construction.
Pool Design and Size
The complexity and size of the pool design will impact the construction timeline. Custom features, such as waterfalls, slides, or intricate tile work, may require additional time for installation.

Additional Elements
Pools are rarely standalone features. Incorporating elements like patios, decks, retaining or seat walls, and extensive drainage can add extra time to construction. These elements often need to be coordinated and completed in conjunction with the pool installation.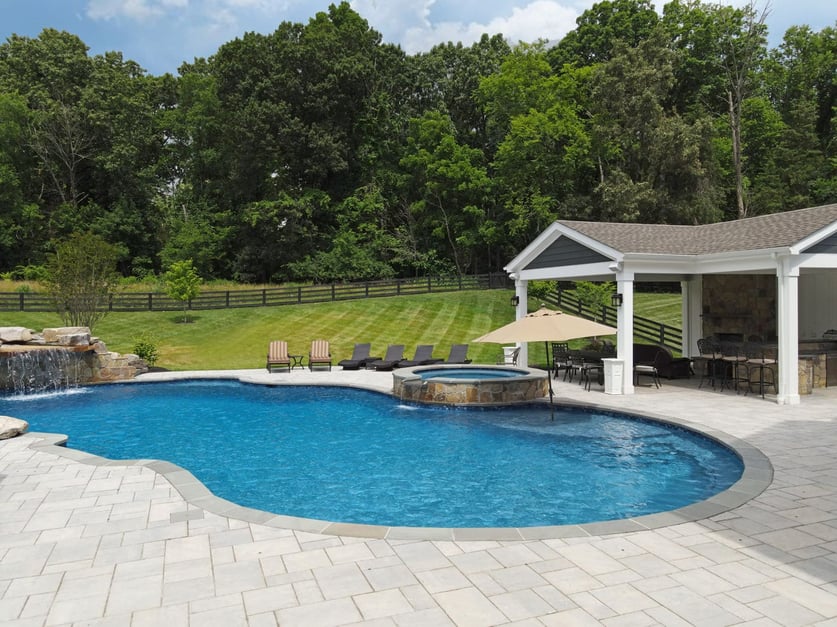 Permits and Regulations
Before starting construction, it's important to obtain the necessary permits and ensure compliance with local building regulations. The time required for permit acquisition may vary depending on the specific requirements of your location and seasonal volume of permit applications.
Landscaping and Accessories
Landscaping and other finishing touches, such as lighting and accessories, add aesthetic appeal and functionality to your pool area. These elements are typically completed towards the end of the construction process but should be considered when estimating the overall timeline.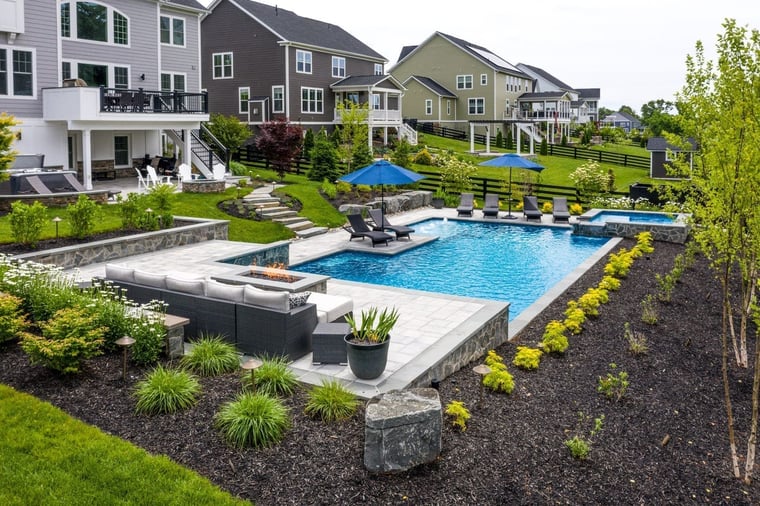 Real Talk About Your Pool Building Timeline
While the installation of the pool itself can typically be completed within a month, the surrounding elements play a significant role in determining the overall duration of the project. Creating a simple pool patio may take only 1-2 weeks, while the same project with a basic deck could add another 1-2 weeks, depending on its size. Incorporating retaining walls and drainage systems may require an additional week or more. Landscaping, depending on its extent, can generally be completed within 3-5 days. However, elements like pool houses, pavilions, fireplaces, and outdoor kitchens can add varying time frames, ranging from 1-3 weeks to 2-5 weeks or more, depending on their intricacies and specific requirements. When planning, it's essential to consider these factors and the time required for trade-related installations, such as plumbing, gas, sewer, and electric requirements, along with the overall details and scale of the project.
Dive into Your Dream Pool with Deckscapes
Deckscapes is here to bring your Northern Virginia dream pool to life. Contact us today to begin your pool construction journey in Fairfax, Loudoun and Prince William Counties. We cannot wait to create your oasis together!