How Much Does a Porch Cost in Northern Virginia?
Bust out the rocking chairs and lemonade. It's time to talk about porches! Whether you're a professional porch relaxer or a sometimes-sitter, watching the world go by tucked against the comfort of your own home is appealing to just about everyone. Wondering what you'll pay for the privilege of creating a perfect porch?
Deckscapes of Virginia specializes in beautiful outdoor living spaces. We don't dabble in porches and decks. It's what we do. Our expertise as contractors for outdoor construction allows us to focus on creating innovative and low-maintenance outdoor structures that you will enjoy for years to come. Let's talk about the price of a porch in Northern Virginia and the factors that influence it so that you can budget and plan for the outdoor oasis you're after.

Types of Porches
Many people are in the market for a new custom porch. Knowing a bit about the types of porches will help you ask the right questions when you're creating a plan for your new porch.
Open Porch - From a basic stance, an open porch is just a deck with a roof above. Most open porches serve the primary purpose of providing shade and cover but are not bug-free. An open porch generally includes similar features to a screened porch, but since it is not restricted by screening, the openings between support posts and railings can be larger, creating a grander feel.
Screened Porch - A screened porch is by far the most popular structure Deckscapes of Virginia offers. Screened porches offer the benefits of shade and cover as well as screens and door(s) to eliminate bugs as a concern. Biting insects, like mosquitoes, can put a damper on the enjoyment of your outdoor living space. Screening the structure can be a crucial component. Screened porches typically pair with fans and lights to create more enjoyable spaces at any time of the day.
3 Season Room - A 3 season room is essentially a screened porch with the addition of aluminum window frames that include collapsible vinyl panels and a fixed screen on the exterior of the frame. These rooms almost always pair with accessory elements such as heaters, fireplaces, and fans to create a space that can be used for extended time frames throughout the year.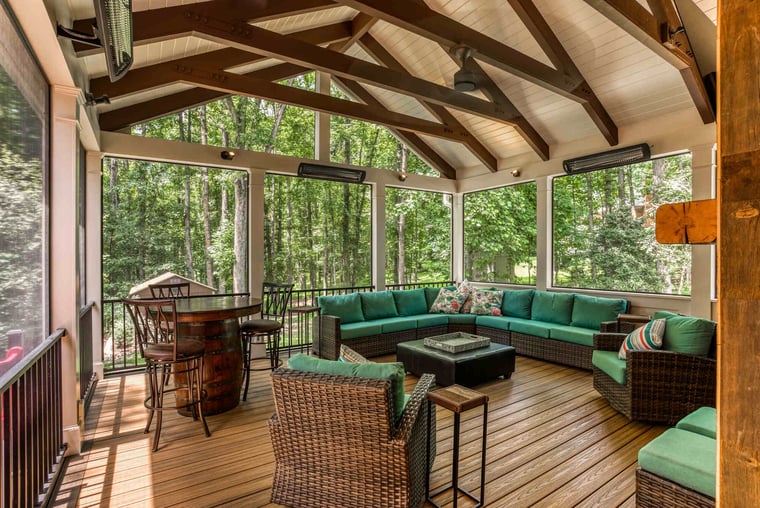 How Much Does it Cost to Build a Porch in Northern Virginia?
A small porch, say 12x12, with a roof will cost between $35,000 and $45,000. These prices vary not only based on the conditions of the individual home, but also the type of porch as discussed above. If you are looking for a porch to include both a lounging and dining space, say 16x20 with room for accessory features like a fireplace, you could pay up to $90,000 or more for the ultimate porch experience.
It is difficult to assess a specific price for a porch when the size, design, and elements you wish to consider must mesh with your existing home. Placement of windows, doors and/or vents, as well as zoning restrictions and other considerations impact final costs.
Wondering about the cost of another outdoor project like a deck? We dive into it here!
What Makes a Porch More Expensive?
We've provided a wide range of potential costs for adding a porch to your Northern Virginia home. Understanding how your choices impact the ultimate price tag for your new porch will help you budget for your upcoming project.
Size - Bigger porches are more expensive to build. They require more materials and labor and often have room to add more elements and decorative features. The engineering needed to connect a larger porch to an existing home is also more extensive.
Roof Type - There are many different types of roofs that a porch can feature. A simple shed or single slope roof, while cost-effective and often easier to install, can leave more to be desired from an aesthetics perspective. Rooflines such as a gable or hip allow more creative designs, giving your porch that custom look, but also increases the price tag.
Features - Want to add a fireplace with a hearth as a focal point? Are ceiling fans and recessed lighting a requirement? How about tongue and groove flooring and a recessed tray cedar ceiling? Electric heaters? What about a standing seam metal roof? Or perhaps a 3 Season room with vinyl/screen window units is really what you want? These features really add to custom nature of your porch, but have a strong impact on your overall investment. Adding these can be even more expensive after the fact, so the time to include them is with your primary build, while Deckscapes of Virginia is already hard at work on your behalf.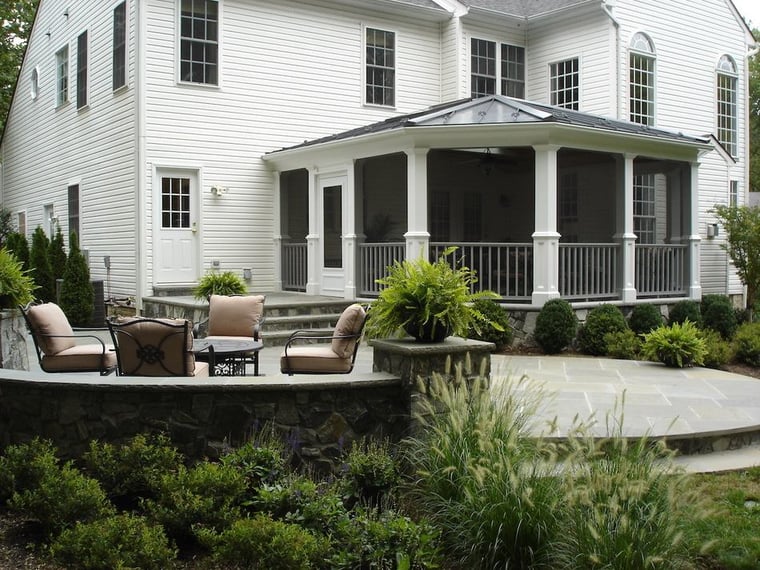 Build Your Northern Virginia Porch with the Best Contractor
Deckscapes is Northern Virginia's outdoor living space expert. Our one-stop process brings you from dream to design and then to our flawless execution. We cannot wait to meet you, hear more about the project you've got in mind, and then see the look on your face when we make it real. Reach out today to tell us more about the pool, patio, deck, porch, or other outdoor space you've got in mind.