How to Do a Pool House Right (and Wrong)
Creating the perfect backyard oasis often involves more than just a sparkling pool. A well-designed pool house can elevate your outdoor space, offering both functionality and a touch of luxury. Whether you're considering adding a pool house to your existing pool or starting from scratch, there are essential factors to consider. From defining what a pool house is to understanding the intricacies of design, materials, and planning, our guide dives deep into ensuring your pool house project is a resounding success.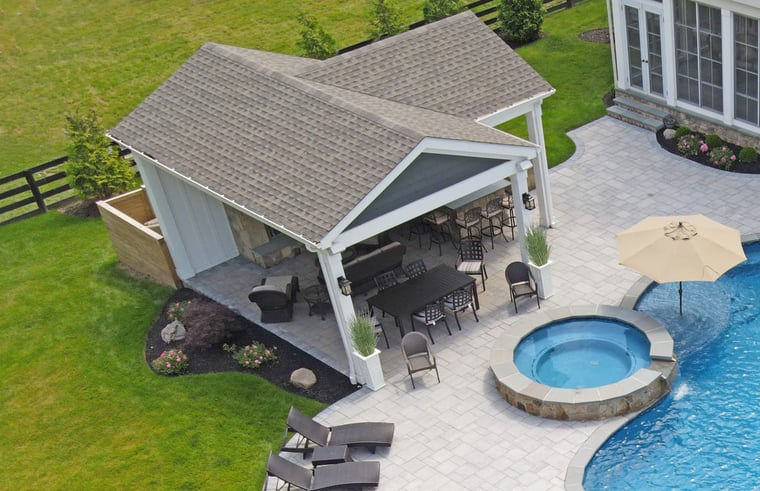 What is a Pool House?
A pool house is more than just an accessory to your pool; it's a functional and aesthetic extension of your outdoor living space. At its core, a pool house is a roofed structure, often accompanied by walls, that offers a sense of enclosure and comfort for those enjoying the pool area. While some might envision it as a simple shaded spot to escape the sun, it can be so much more. From changing rooms to entertainment hubs, a pool house can be tailored to fit many needs. At Deckscapes, we define a pool house as a versatile space that seamlessly integrates with its surroundings, enhancing both the utility and beauty of your pool environment.
How Do I Plan a Pool House?
Planning a pool house is a blend of practicality and creativity. Create a cohesive design by drawing inspiration from existing outdoor elements and the architectural style of your home. With a clear vision and careful planning, your pool house can become the perfect complement to your outdoor oasis.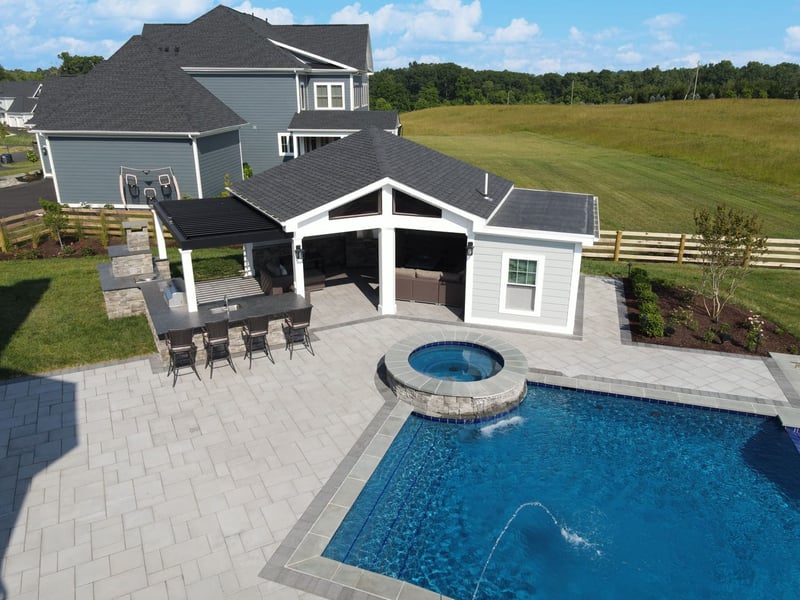 What Should I Include in My Pool House?
Crafting the perfect pool house involves tailoring the space to fit your unique needs and desires. From functional amenities to luxury additions, here are some essential elements to consider incorporating into your pool house design.
Lounging Area: A comfortable space with seating arrangements for relaxation after a swim.
Changing Rooms: Providing privacy for guests and family to change before and after using the pool.
Outdoor Kitchen or Bar: Ideal for poolside snacks, BBQs, or serving refreshing drinks.
Bathroom Facilities: Ensuring guests don't have to return to the main house wet and dripping.
Storage Space: For pool equipment, toys, towels, and other essentials.
Entertainment Hub: A space with audio-visual equipment for music or movie nights by the pool.
Climate Control Features: Such as ceiling fans or heaters for year-round comfort.
Shaded Areas: Using pergolas or awnings to provide relief from the sun.
Security Features: Lockable doors or security systems, especially if valuable items are stored.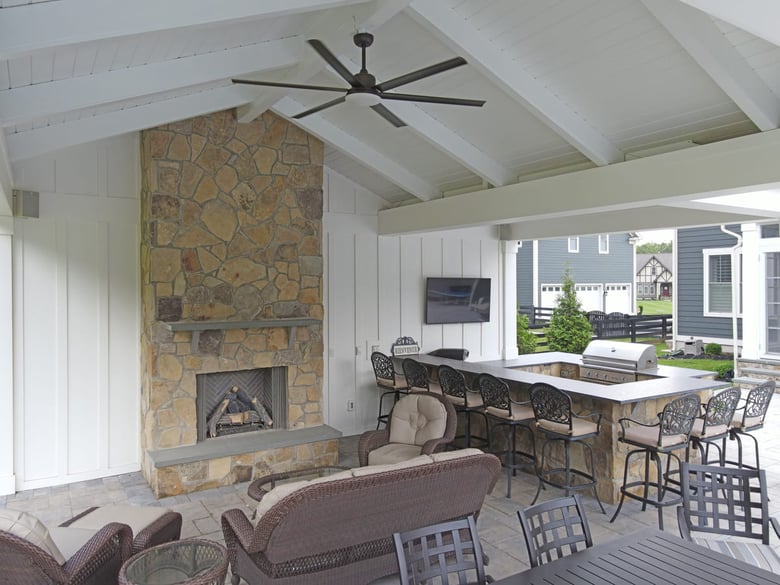 Pool Design Style Options
The design style of your pool house plays a pivotal role in setting the ambiance of your outdoor space. It should not only resonate with your personal aesthetic but also harmonize with the existing architecture of your home and landscape. Here are some design styles to inspire your pool house vision.
Modern: This popular choice is characterized by clean lines, minimalistic features, and a neutral color palette.
Contemporary: Try blending modern design with traditional elements, often using bold colors and innovative materials.
Rustic: Emphasize natural materials like wood and stone, creating a cozy and warm atmosphere.
Mediterranean: Inspired by coastal European regions, this style features arches, terracotta tiles, and vibrant colors.
Traditional: Timeless designs often incorporate classic architectural elements and a symmetrical layout.
Tropical: This festive style evokes the feel of a beachside retreat using bamboo, thatch, and lush greenery.
Pool Site Inventory Considerations
Before diving into the construction of your pool house, it's crucial to assess the specific conditions and features of your property. This site inventory will guide the design and placement of your structure, ensuring it complements and enhances your outdoor space. Here are some key considerations to keep in mind.
Existing Architecture: The design of your pool house should harmonize with the architectural style of your main residence.
Window & Door Placement: Ensure the pool house doesn't obstruct essential views or access points from your home.
Utilities & Vents: Consider the location of existing utilities, vents, and rooflines, which can influence the design and placement of the pool house.
Terrain & Topography: The natural slope and conditions of your land can impact drainage and the structure's foundation.
Well & Septic Locations: It's essential to know where these are situated to avoid any construction conflicts.
Existing Trees & Vegetation: Preserve mature trees and plants, integrating them into the design when possible.
Drainage Patterns: Ensure that the placement of your pool house doesn't disrupt the natural flow of water, preventing potential flooding or water damage.
Site Lines & Symmetry: The pool house should be positioned in a way that is visually appealing from various viewpoints, especially in relation to the pool.
Best Materials for a Pool House
Selecting the right materials for your pool house is paramount to ensure its longevity, functionality, and aesthetic appeal. Here are some top recommendations, each chosen for specific benefits in a poolside setting.
Stone Veneer: Mimicking the look of natural stone, stone veneer is durable and adds a touch of elegance to the structure.
Composite Decking: Low maintenance and resistant to fading, staining, and mold, it's an ideal choice for pool house flooring.
Stainless Steel: For fixtures and fittings, stainless steel is rust-resistant, making it perfect for areas exposed to pool water.
Tile: Especially porcelain or ceramic, tiles are water-resistant and easy to clean, making them ideal for interior and exterior applications.
PVC trim: Cellular PVC trim is ideal for wrapping framing material due to it's resistance to rot and insects. As a low maintenance product, PVC is also very easy to clean.
Flagstone: Durable and elegant, Flagstone offers multiple color options of varying shapes and sizes. It's also slip resistant, which can be ideal around a pool.
Ipe Wood: Known for its incredible durability and rich color, Ipe is a top-tier choice for decking and outdoor furniture.
Travertine: This natural stone is durable and beautiful, offering a unique pattern and texture for flooring or wall applications.
Cedar: Resistant to decay and insects, cedar provides a luxurious, warm aesthetic for structural elements.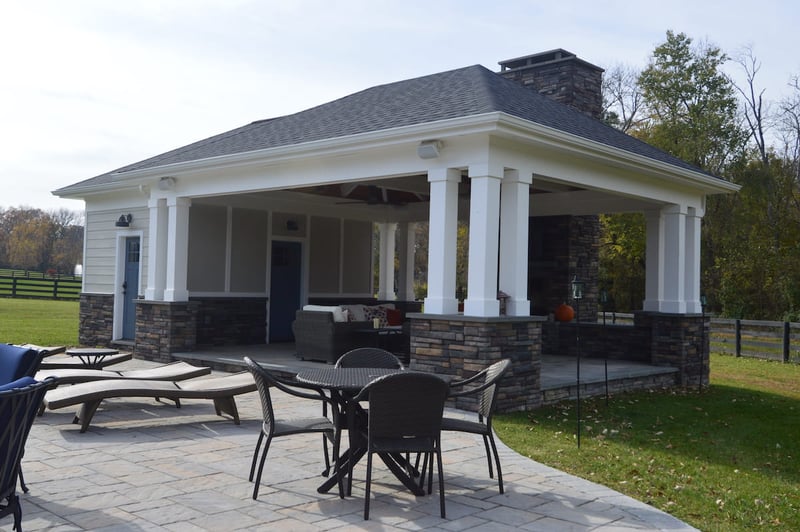 Curious about the cost of the outdoor project you're planning? Our complimentary cost calculator gives you a realistic idea of the cost of creating the elements you have in mind.
Dos and Don'ts of Pool House Planning
When envisioning your perfect pool house, it's essential to be aware of the best practices and potential pitfalls. Here's a guide to help you navigate the planning process:
Pool House Dos
Consult Professionals: Always seek advice from architects, designers, or contractors experienced in pool house construction. Their expertise can save you time, money, and potential headaches.
Prioritize Function: While aesthetics are crucial, ensure your pool house meets your functional needs, from storage to entertainment spaces.
Consider Future Needs: Think long-term. Maybe you'll want to add a sauna or a hot tub in the future. Plan with potential upgrades in mind.
Blend with Surroundings: Ensure your pool house complements the existing architecture of your home and the natural landscape.
Invest in Quality Materials: Prioritize durable and attractive materials that offer beauty and longevity.
Pool House Don'ts
Overlook Local Regulations: Always check local building codes and obtain necessary permits before starting construction.
Neglect Maintenance: Even the best materials require some upkeep. Consider the long-term maintenance needs of your chosen materials.
Compromise on Ventilation: Especially if you're including a bathroom or cooking area, proper ventilation is crucial.
Forget Security: If your pool house will store valuable items, ensure it's secure. Consider adding security systems or lockable storage.
Overcrowd the Space: While it's tempting to include every feature, ensure there's ample space for movement and relaxation.
Ready to bring your dream pool house to life? Partner with Deckscapes, and let our expertise guide you every step of the way. Contact us today to start your journey to the perfect backyard oasis.