Patio, Porch, or Deck - Which One Is Right for Me?
You're ready to dine al fresco, survey your outdoor kingdom from a cozy spot with a quiet morning cup of coffee, and gather with family and friends to enjoy the fresh air. Creating the perfect outdoor space to host and recreate is a life-changing addition to your living space. However, finding the perfect elements to add to your existing space is a personal challenge. You have plenty of options for adding outdoor living space, but deciding between a deck, patio, or porch is a personal process.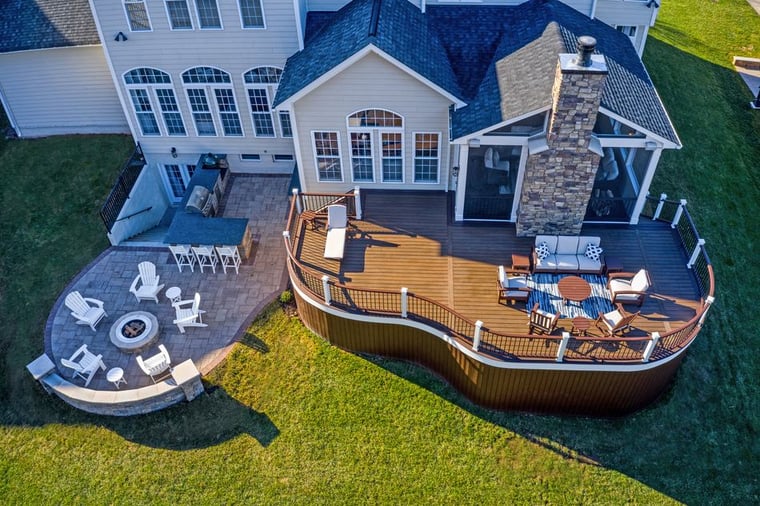 Deckscapes builds beautiful decks, porches, patios, and more in Northern Virginia. Our Fairfax, Loudoun and Prince William area custom outdoor designs leave stunning spaces that support homeowners in whatever fun they've got planned. We build beautiful backyards and amazing front yards as well. It's what we do, not an add-on service or a sometimes focus. We're here to talk about your options for outdoor living spaces so you can dream up that environment you've always desired.
Patio, Deck, or Porch: What's the Difference?
Though very similar, the terms for the outdoor space you're planning are important. Where you put your outdoor living space and what you make it out of are often the determining factors in vocabulary. Here's a quick primer to help you find the term you're after.
What's A Porch?
The porches we design are almost always backyard affairs. Some grand porches wrap around several sides of a home. They are attached to the home and are typically tied in part of main residence. Porches generally connect to a location on a home where a door exists and usually include part of the structure at the same level as the floor inside. Porches can include railings, knee walls, screens and/or vinyl/screen window units to delineate the space and keep you comfortable and bug-free.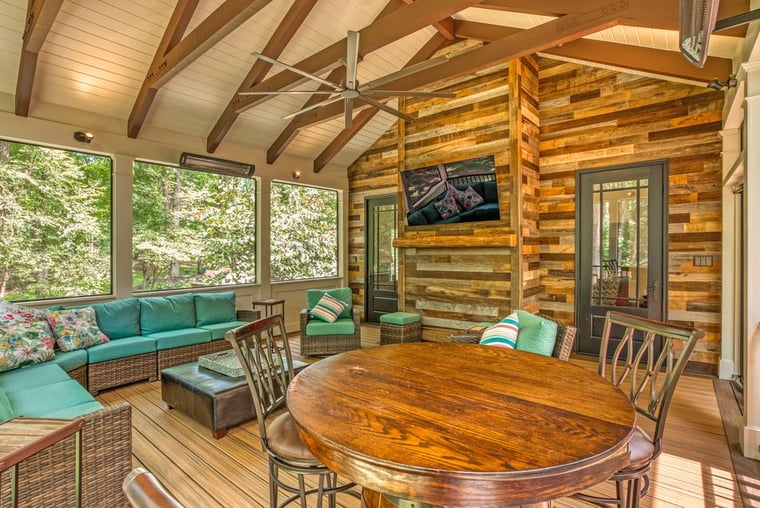 What Is A Patio?
Patios are also most often located in the backyard. They are usually ground-level structures made from pavers, concrete, or natural stone, making them durable bases for fantastic features like built-in seating and fireplaces. Patios can sprawl across grade transitions and connect to multiple areas in your yard.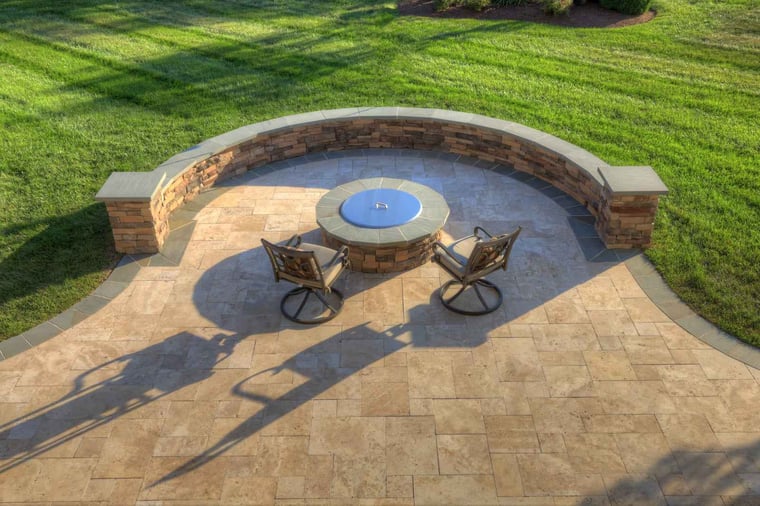 What Is A Deck?
A deck is an elevated, usually uncovered structure made from wood or manufactured materials made to look like wood. Decks are often attached to an entrance and can contain multiple levels. A second-story deck is a great opportunity to create a covered living space below. Decks can attach to any part of a home, front or back.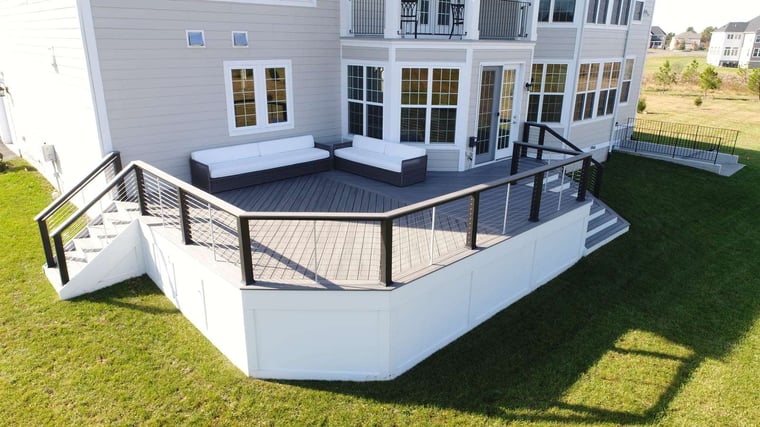 Which One is Right for You?
We compare deck vs. patio vs. porch with some examples. Let's walk through some scenarios where clients selected the perfect element to serve their vision and needs to further help you narrow down your choice.
A Tale of the Perfect Patio
Recent clients reached out to design and execute their dream backyard space. Their current stamped-concrete patio was dated and weathered. When we further explored the ideas that excited them, we settled on a patio, custom in-ground pool, and a custom fire feature. A patio allowed us to create spaces that flow seamlessly between elements as soon as you step through the back door. Custom seating at the pool's edges and around the fire creates a cohesive and inviting space, making this yard the obvious choice for gathering and play.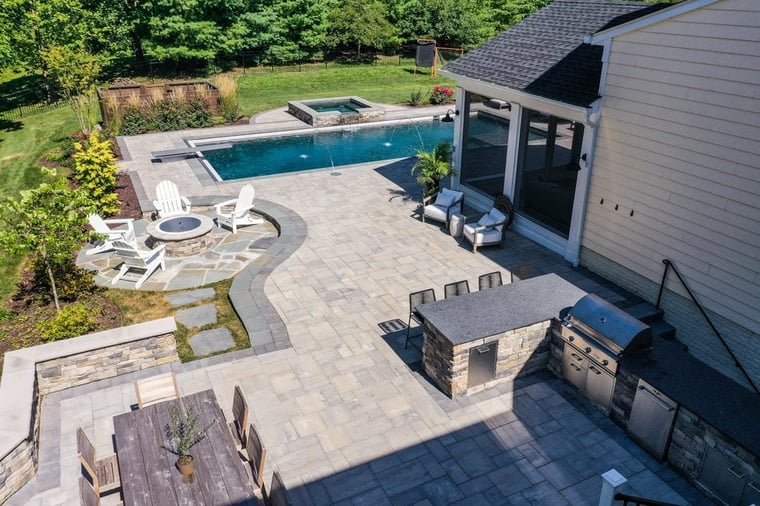 The Subtle Art of Porch Living
There's nothing like a quiet morning on the porch. Because they are extensions of the home, porches offer intimacy and privacy tucked against your home. Accentuated with swings, rocking chairs, planters, and other goodies, porches should be as inviting as they are engaging. This custom covered porch features natural wood accents, vinyl/screen windows, fans, and electric heaters. This porch is by our clients' favorite room of the house.
Decked Out
This backyard deck project did double duty and provided a beautiful outdoor kitchen for grilling and chilling and an intimate area for cozy conversation. Built in anticipation of her impending retirement, a client wanted to build the perfect place for her book club to gather and for friends to pop by for a cocktail. Entertaining on the deck provides constant delight for this Fairfax family, and we're delighted to be part of the fun.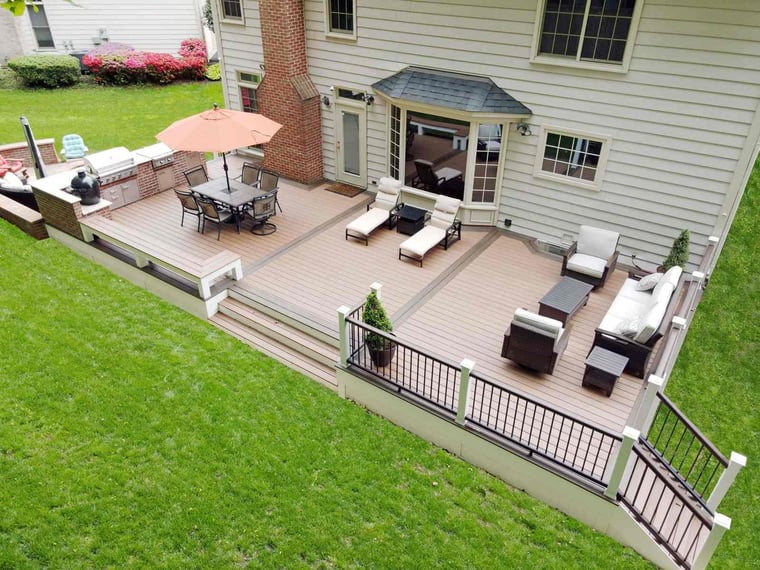 What Do Decks, Porches, and Patios Cost to Build?
If you're building a comparable space, you'll likely pay the least for a patio, then a deck, and the most for a porch. However, adding extra features, upgrading materials, or building bigger projects will increase your overall cost. We explore the cost to build a deck, the price of a porch, and the budget for a patio in our trio of recent blogs.
Deckscapes is Your First Call for Your Northern Virginia Outdoor Living Space
Ready to discuss the details of the new outdoor space you have in mind? Deckscapes is the expert in porches, patios, decks, and more for our Northern Virginia neighbors. We cannot wait to dream with you! Reach out to connect today.