How Much Does a Patio Cost in Northern Virginia?
Don't lament over your sad, cracked patio. Do away with it! Building a better (or brand-new) outdoor patio is more than worth it. A new patio breathes life back into your outdoor spaces, adds vital curb appeal, and could return more than half of your investment at resale. Ready to explore the cost of adding the patio of your dreams in Northern Virginia? You're in the right place. Outdoor living spaces are what we do at Deckscapes!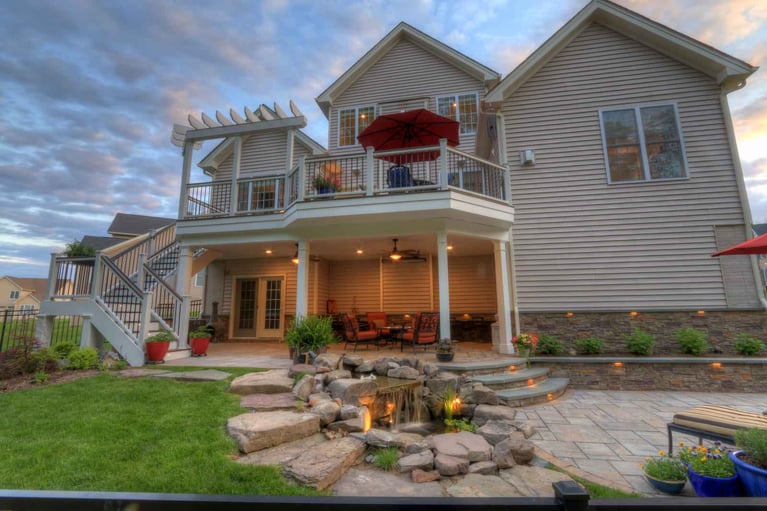 What Exactly is a Patio?
A patio is a ground-level structure with room for seating. Most patios are adjacent to a home but aren't part of the structure like a porch. A tiny patio might be the perfect place for a grill or bistro set, whereas a grand patio might include a firepit and multiple seating and conversation areas. Patios are usually made of stone, brick, concrete, or other hard and durable material that can withstand the elements and heavy ground-level use, making them distinct from decks and porches.
How Much Does it Cost to Build a Patio?
We'll have to talk in ranges when we discuss the price of building a patio in Northern Virginia. You could create a small paver patio, say 12 x 12, with room for a grill and dining set for under $15,000. Want a sprawling patio scape with multiple levels and lounge areas? Have your eye on premium products like natural stone? Making your large luxury patio dreams come true could cost $65,000 or more depending on your scale and selections. Your building professional is your best resource for how much the outdoor renovation project you envision will cost.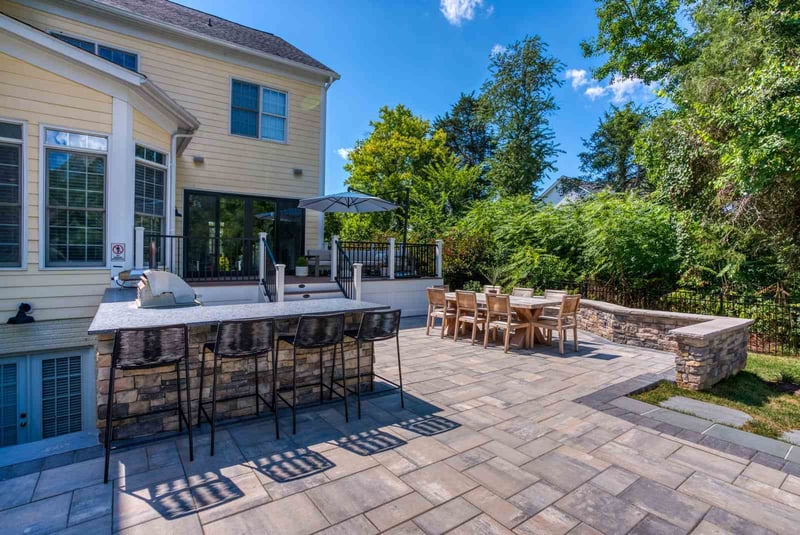 What Influences the Cost of a Patio?
It wouldn't be very productive to quote such a wide range and stroll off into the sunset. We'd much rather talk about the factors and features that will influence the price of your custom patio so that you'll have a better idea for budgeting. Remember that your contractor will have more personalized information to help you understand your options and the costs associated.
Size
It almost goes without saying, but we'll start here first. Bigger patios are more expensive. They include more materials and take longer to build. Larger patios are also more likely to have more features, such as fire pits, retainer walls, and built-in seating, which require time and skill to execute.
Materials
The materials you select will impact the cost of a new patio. Poured concrete patios are less expensive per square foot than those more higher-end products like large slabs of natural stone or premium pavers. Popular materials like flagstone or semi-permeable pavers will run somewhere in between.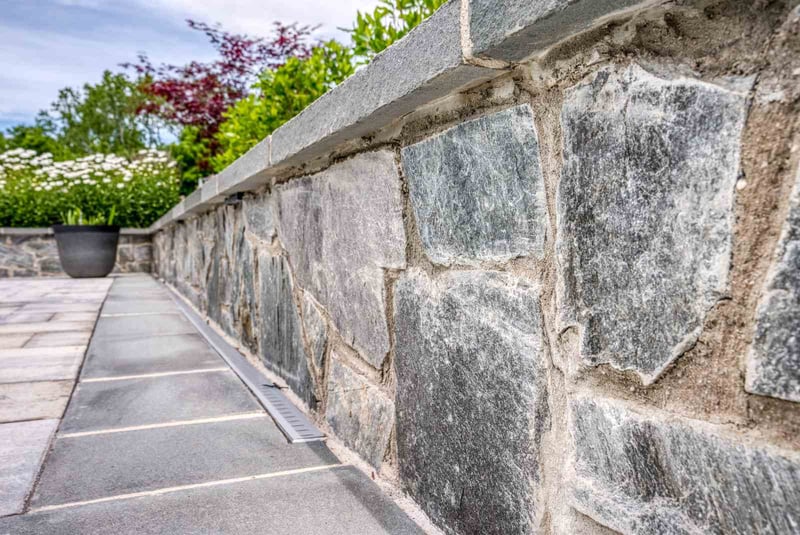 Labor
Intricate paver patterns take time and skill to install correctly. Concrete with elaborate stamping or finishes can also contribute to your labor budget. Choosing time-intensive products could increase the price you pay for labor to build your patio. As long as you work with a seasoned local professional and thoroughly read your contract, you should know your timeline and labor costs before your project begins.
Complexity
You'll pay more to build a patio on a hill, or across changes in the grade. A multi-level patio is a great way to create cozy nooks for conversation and dining options for every occasion. Adding other built-ins like retaining walls with the same stone features creates continuity and curb appeal.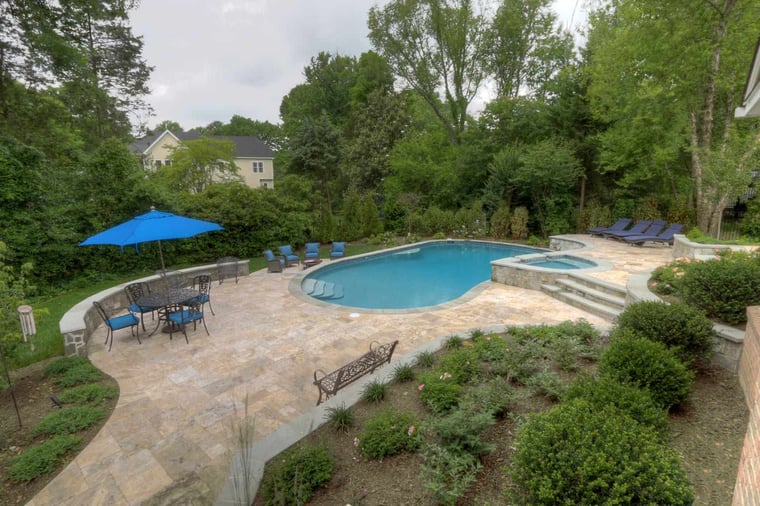 Add-ons
Adding other elements to your patio costs more, but the best time to create the parts you envision on your patio is when you're designing and building it. Here are popular features to add when building a patio and some price ranges for adding them to your project.
Approach
Add walkways to your deck or other features to provide access to all of your outdoor spaces. For a large and luxury paver or natural stone walkway that transitions over grade changes, you'll pay $15,000-$25,000. A smaller side walkway or casual stone steppers could cost between $4,000 and $7,500 in our area of Northern Virginia.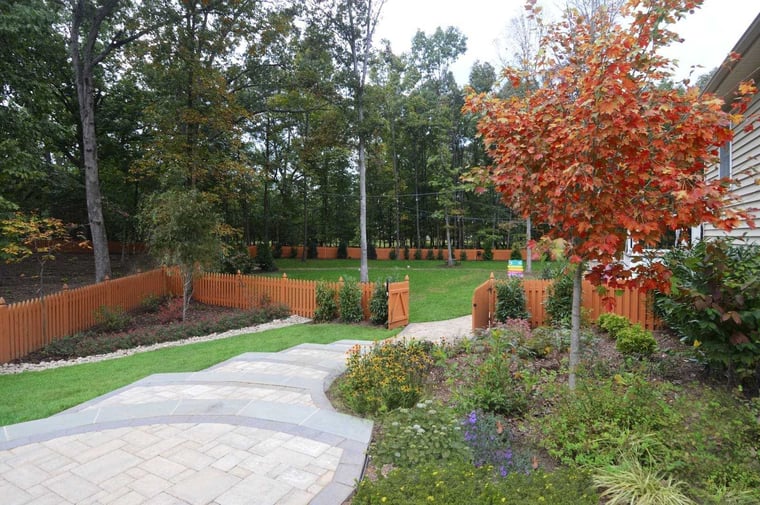 Lighting
Keep the party going when the sun goes down. String Edison bulbs, illuminate your favorite features, spotlight your grilling station, or illuminate your conversation area with statement lighting. A small project with LED lights could cost as little as $2,000, and a premium and extensive app-controlled outdoor lighting system might top $35,000.
Fire Feature
Include a stone firepit with seating or a majestic fireplace with a hearth. Everyone loves to gather around the fire, and your stone patio is a natural place to include this element safely. A wood-burning or gas firepit with natural stone finishes usually costs less than $10,000. Including a large custom fireplace or multiple fire bowls could add as much as $35,000 to your project. A more straightforward stone fireplace for your outdoor space usually costs near $20,000.
Your Patio Deserves the Fairfax Area's Best Outdoor Builders
Ready to build a beautiful outdoor patio that delights your guests and neighbors and provides pleasant and quiet moments just for you? We're premier patio builders. Deckscapes of Virginia in Catharpin, VA would love to build your Northern Virginia outdoor living space. Let's connect about your project!