How Much Does a Deck Cost in Northern Virginia?
Let's get lounging, grilling, hanging out, and enjoying the outdoors in your backyard. Do you have a dated, unsafe deck, or worse, no deck at all to enjoy the Northern Virginia sunshine? Your outdoor oasis provides a place to gather for friends and family and beckons you outside to make the most of a beautiful day. Your outdoor spaces should be spectacular. Let's talk about the local costs to create the deck of your dreams so you can budget and plan with the best information possible.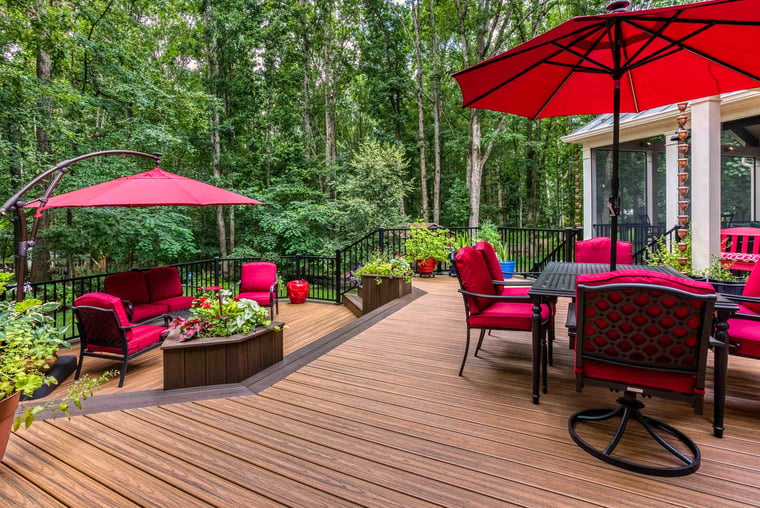 Deckscapes of Catharpin, Virginia has been designing and building custom decks and outdoor living spaces throughout Northern Virginia for more than fifteen years. While other builders dabble, custom decks are our bread and butter. Our expertise gives us extra insight into nuances of the cost of building a deck in Northern Virginia and we're pleased to pass along the information you need to plan a perfect deck to complete your outdoor living space.
How Much Does it Cost to Build a Deck in Northern Virginia?
The cost of building a deck in Northern Virginia depends on multiple factors including material selections, design features, and project location. We know that "it depends." is not the answer you came here to find. We won't leave you hanging. Broadly, you can expect your low-maintenance deck to cost around $20,000 for a smaller project with room for a seating area and grill and up to $85,000 or more for a large deck with multiple seating areas and space for other features. It goes without saying that in discussing budgets for hypothetical projects it is difficult to get really specific. You can easily spend in excess of six figures for a large custom deck, but most of our clients are spending between $45,000 and $75,000 for their new decks.
What Impacts the Cost of a Deck?
We know we've provided a wide range for the cost of building an outdoor deck. Let's dig further into the factors influencing the price range we discussed for building a quality deck in Northern Virginia. This will help you further determine how much the project you've got in mind is likely to run.
Size
Larger decks need more materials and take more time to build, making them understandably more expensive. Larger decks will likely include more features, requiring expertise and time to create your perfect space.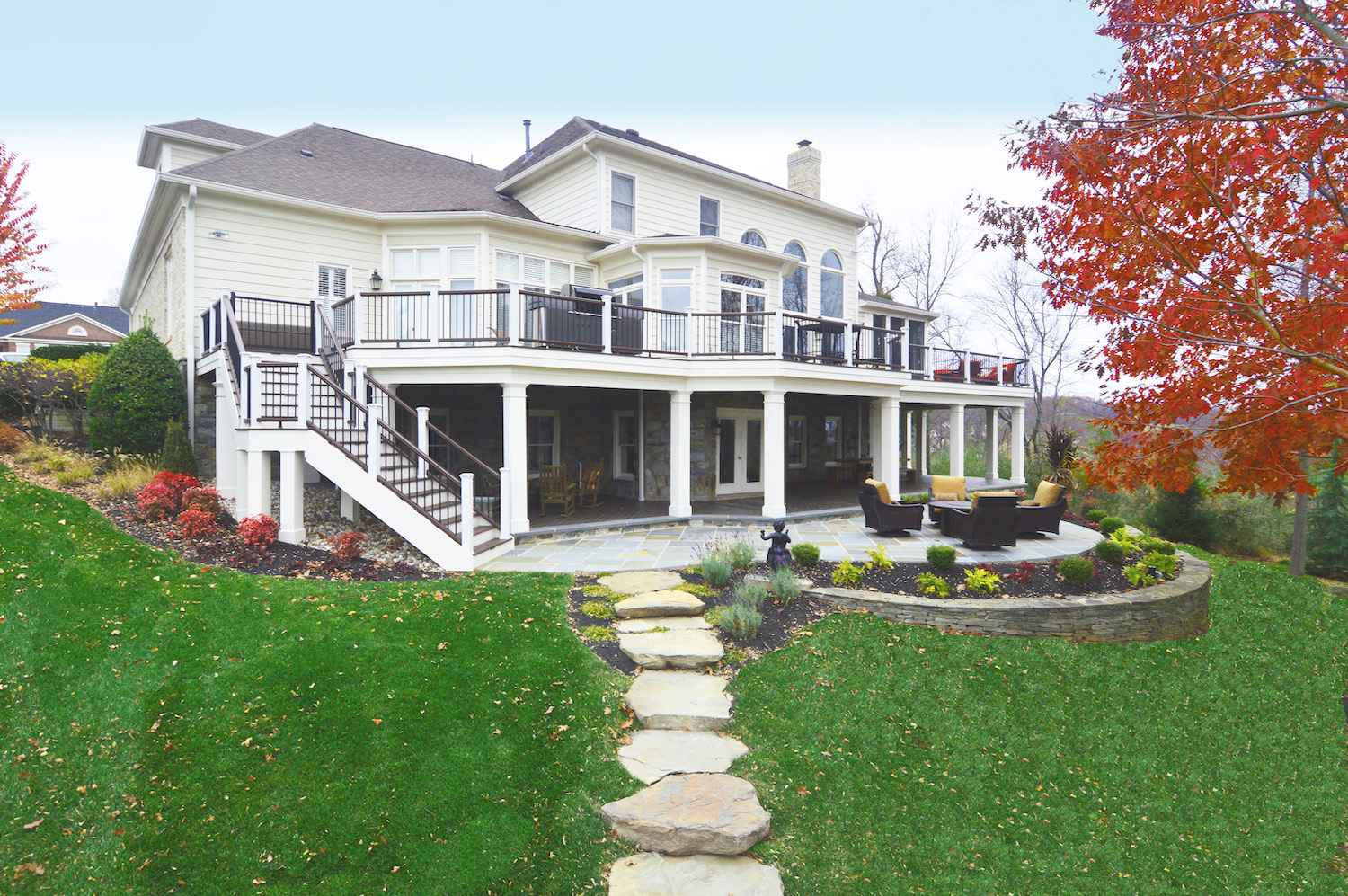 Materials
The materials you select for your deck will influence the cost. Composite Decking, though more expensive than wood decking, is more durable, lasts longer, and requires much less upkeep. Additional low-maintenance material options include a wide array of railing types and styles as well as a variety of fascia and finishing details. While most decks are structurally still built with traditional lumber some experienced builders and quality-focused buyers opt for steel deck framing solutions that extend the lifespan of their deck significantly. While your overall investment for deck lumber may be less, we encourage you to select your materials with an eye for the long term.
Structural Complexity
Decks built today often include many structural elements not commonly seen in years past. These structural elements include curved decks and steps, oversized beam spans, and other engineered solutions to make your deck truly unique. While building a more elaborate structure is more expensive, working with an experienced builder will allow you to work through all the factors you will need to consider when making this investment in your deck or outdoor living space.
Labor
Since the cost of any decking board, nut, bolt, or screw can be found anywhere online these days one of the harder things to quantify can be the differences in labor costs and the skill level of the craftsman installing said decking board, nut, or screw. Quality craftsmen make all the difference and are truly the ones responsible for bringing the best plans to life. The cost of materials to build your deck is only part of the associated cost. Labor-intensive features like stairs, multiple levels, decorative railings, and other areas of intricate design require time and devotion from experts. While this one-time expense can be daunting, the bespoke results last for decades.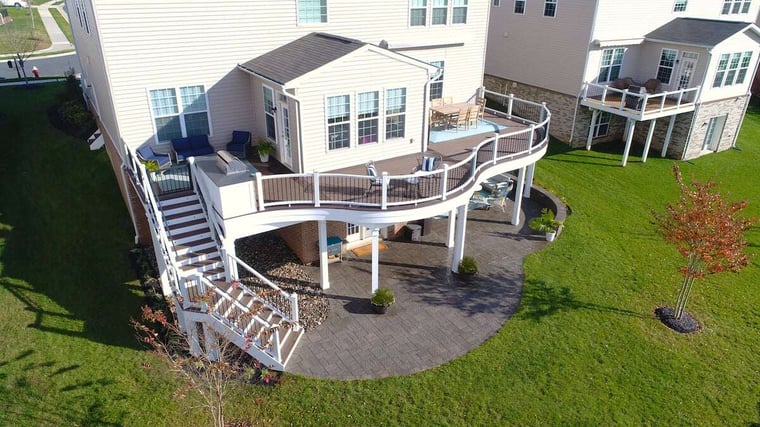 Extra Feature Costs to Deck Out Your Deck
Adding other outdoor features to enhance your experience will add to your project's investment. Building in the elements you desire at construction allows a seamless and polished finish that is much harder to replicate after the fact. Here are some of the most common features clients in Northern Virginia opt to add to their custom deck construction and the associated costs.
Fire Feature Price
Who doesn't enjoy sharing stories or sitting around the fire with friends? Adding a built-in gas fire pit could cost as little as $5,000 if you opt for a gas unit with a dedicated gas line run to the pit. We often build gas fireplaces into our porches and decks and you can expect the cost for these options to run between $15,000 and $25,000 but they can get significantly more expensive depending on the scale and scope of the fireplace design and features such as wood storage or custom mantle details.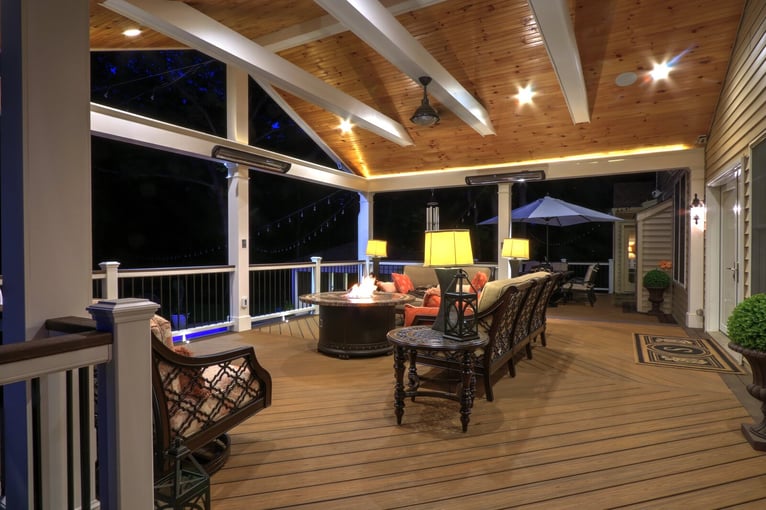 Pergolas & Louvered Roofs
Pergolas and louvered roof systems offer an alternate way to add some vertical interest to your new deck while providing much-needed shade on that hot July afternoon. Low-maintenance pergolas can be designed to provide just a little shading or can be installed with sliding canopies to provide complete shade from the summer sun. A growing and exciting feature in this area is the "louvered roof" concept that offers app-based control of your shade. Pergola louvers rotate to allow light through or turn to block out the sun's rays and keep the area under them dry during a pop-up afternoon shower. Popular add-ons to these features include lighting, heaters, and fans.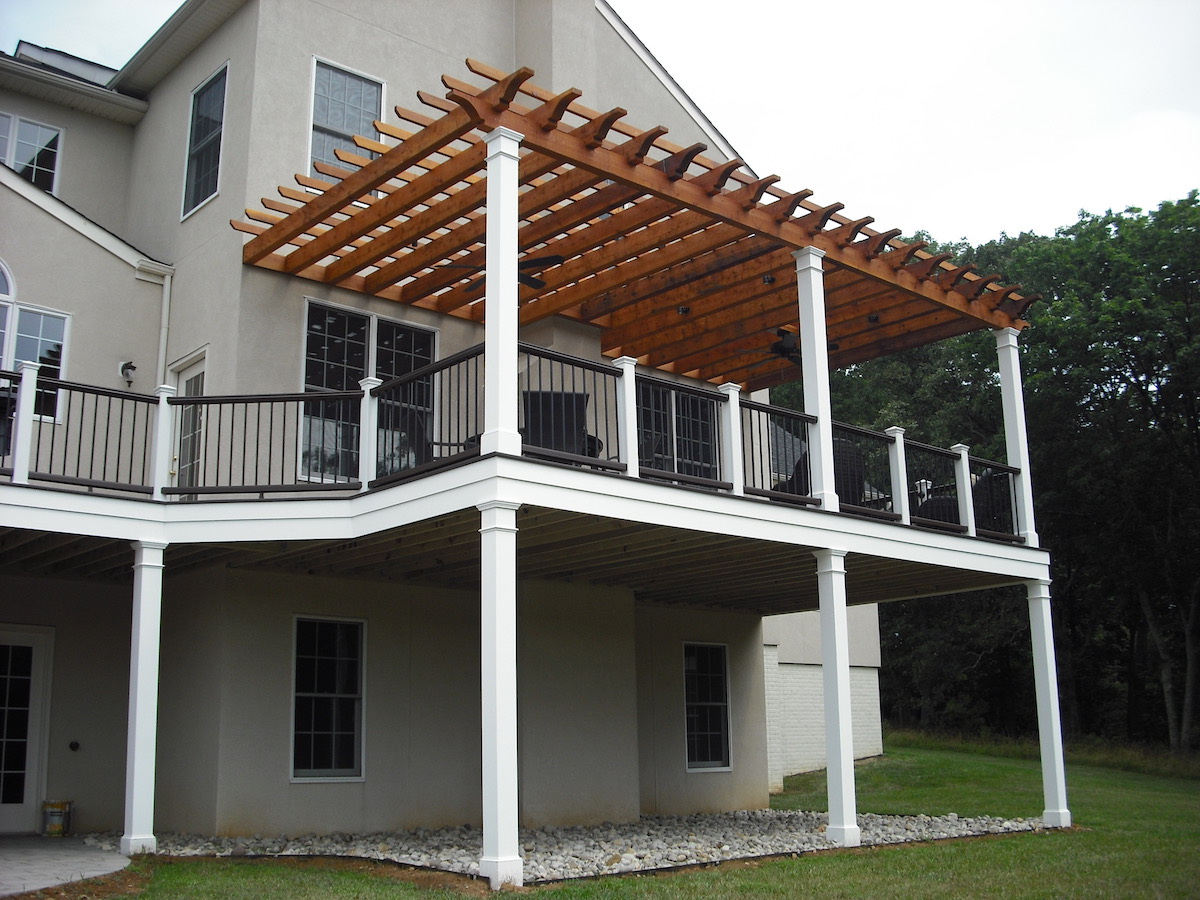 Screened/Open Porch Prices
By far the most common add-on to a new deck project is the creation of a new screened or open porch. You can't go wrong with a beautiful new porch space for people wanting to make the most of their outdoor living space during all seasons. Adding a completely enclosed structure or open porch to your deck starts at $35,000 and can vary widely with the almost endless list of options and custom features you can consider. A larger, more elaborate structure with ceiling fans, room for a fireplace, and more could cost as much as $60,000 to $90,000 in Northern Virginia.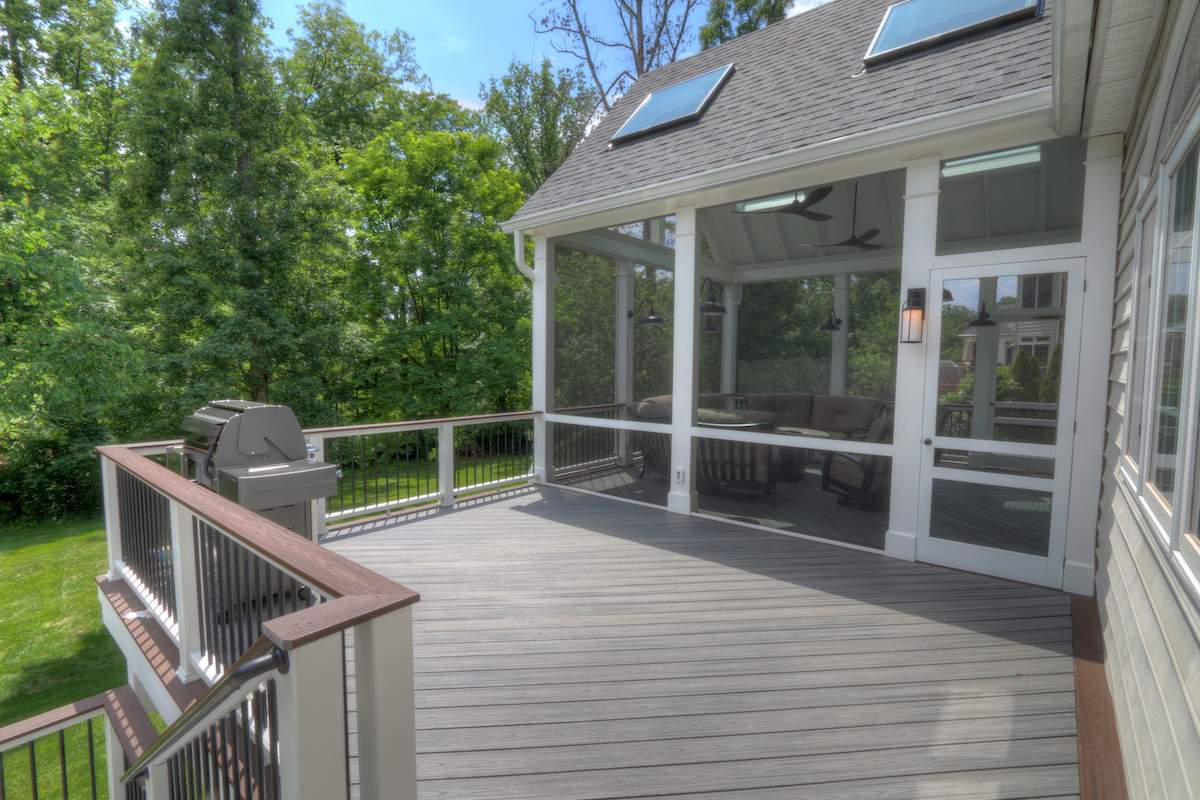 Outdoor Kitchen Costs
Set yourself up for a grilling paradise! Outdoor kitchens and bar areas are very common features to add to a new deck and can help provide a great focal point or conversation area around this popular option. Build a small outdoor kitchen with a fridge, grill, and granite countertops starting around $7,000 to $8,000, or go big with beautiful prep spaces, multiple grill options, a pizza oven, and other premium toys for $25,000 to $35,000 or more.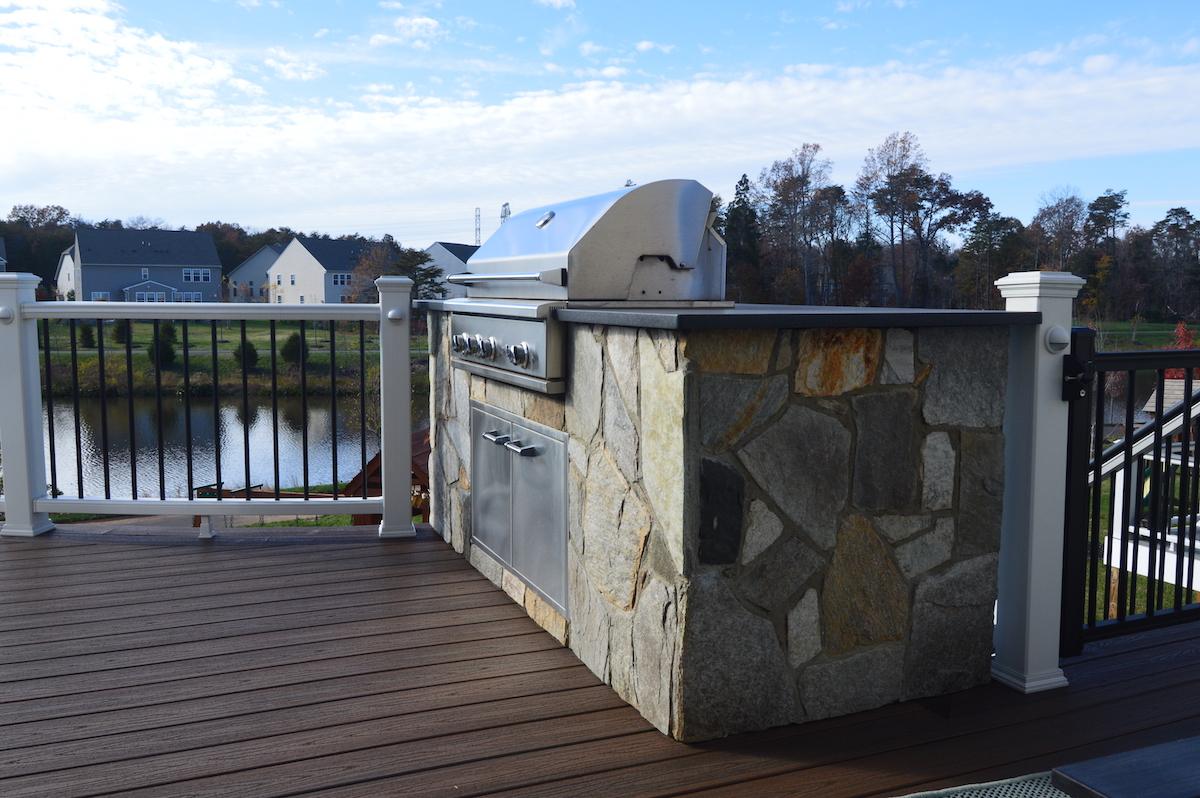 Ready to Get Serious About Your Relaxation?
Deckscapes is prepared and enthusiastic to build your luxury outdoor living space. We're confident our expertise will result in the deck of your dreams. Connect with us today to discuss your vision.