16 Features to Consider When Designing Your Pool
Designing a pool is not just about creating a refreshing oasis; it's about crafting an extension of your home that seamlessly blends functionality with aesthetics. With the myriad of swimming pool features available today, it is pivotal to consider what aligns with your individual needs and preferences. Whether you're pondering in-ground pool water features or ideas around the pool, your vision remains central and should paint a cohesive narrative. In this guide, Deckscapes illuminates features and design elements to include in your new gunite pool, ensuring that your backyard pool design harmoniously integrates with your overall property and becomes a space of solace, entertainment, and beauty.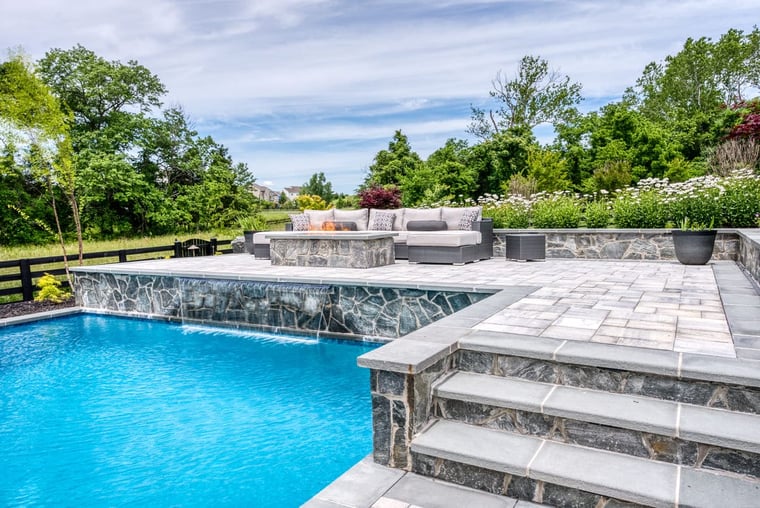 Your Vision, Your Pool
Understanding your aspirations for the pool is paramount. How do you plan to use it? Are you looking for a serene retreat or a hub of activity and entertainment? Not all pool features are right for every customer. For the active swimmer, a deeper, unobstructed design might be the priority, making lap pools an appealing choice. Conversely, those who envision their pool as an entertainment centerpiece might gravitate towards accessory water features, ambient lighting, or an in-ground pool with a tanning ledge. Your selections are driven by your vision and how you want to recreate.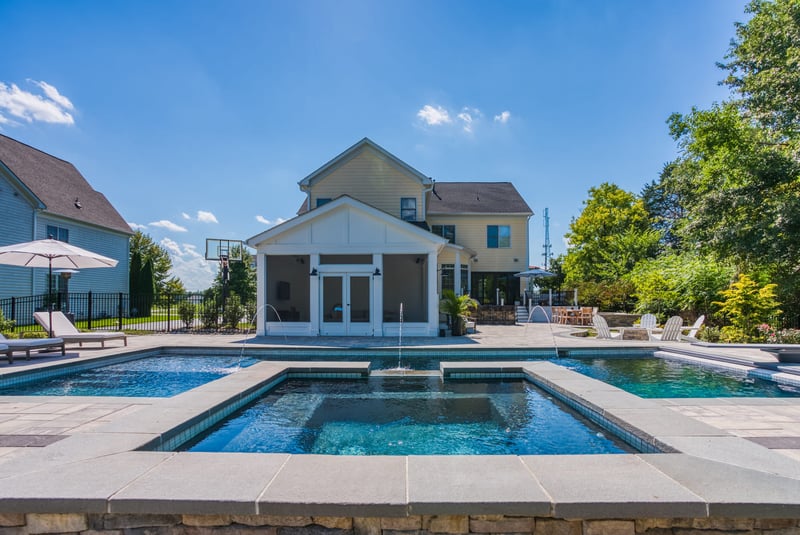 Integral Elements Within the Pool
When diving into the vast ocean of swimming pool features, it's essential to focus on the integral elements within the pool before expanding your focus. Part of the advantage of gunite pools is the way you can completely customize the size, shape, and features included within your swimming pool.
Depth and Design: The pool's depth and design must cater to its primary use. Consider a deeper and more streamlined design if you're an active swimmer looking for uninterrupted laps. On the other hand, leisure seekers might opt for designs with varying depths or unique shapes.
Tanning Ledges: An increasingly popular feature, tanning ledges offer a shallow area perfect for lounging, sunbathing, or letting younger kids play. It provides the comfort of being in the water without being entirely submerged.
Water Features: Waterfall pool water features and similar additions provide more than just visual appeal. The sound of flowing water can be therapeutic, adding a layer of tranquility to your pool experience.
Lighting: Incorporating outdoor lighting within the pool is not just about safety. Modern LED lights can create vibrant atmospheres, making nighttime swims or parties even more memorable.
Spa Integration: A spa or hot tub integrated within the pool's design offers a dual experience. Whether you're looking to relax after a swim or seeking therapeutic benefits, a spa is a worthy addition.
Infinity Edges: For properties with a view, infinity edge pool details can create a visual masterpiece, making the pool appear as though it blends seamlessly with the horizon.
Automatic Covers: Beyond keeping debris out, automatic covers offer extra safety, especially for homes with children or pets. Your pool must be rectangular to use an automatic cover.
Heaters: Given the fluctuations in regions like Northern Virginia, pool heaters are almost indispensable. They ensure the pool remains a warm sanctuary, even during cooler months.
Tile and Coping: Moving beyond functionality, the design also plays a role. Modern pool waterline tile ideas and coping designs can greatly influence the pool's aesthetic, making selections in materials and colors an integral part of the design process.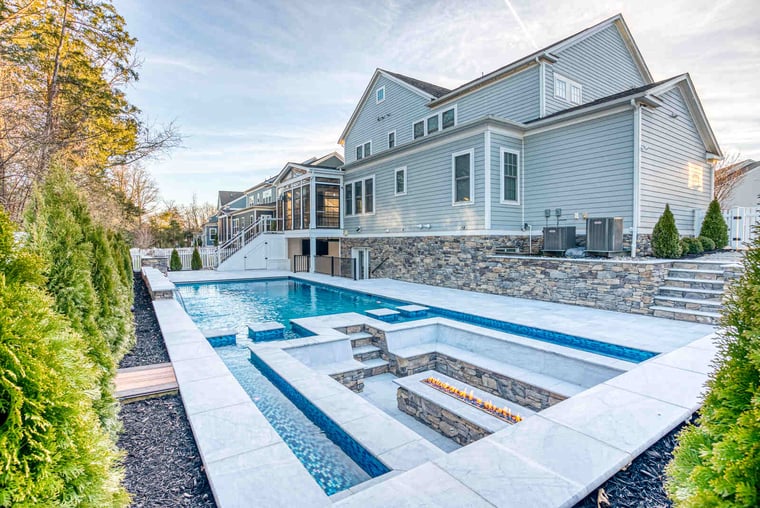 Wondering how long it takes to create pool perfection? We lay it out in our blog here.
Complementing Elements Around the Pool
The environment around the pool plays an equally pivotal role in defining the overall pool experience. It's not just about the water – it's about crafting a holistic outdoor haven.
Pool Deck or Patio: The choice between building a deck or a patio often hinges on site conditions. Factors like yard slope, door locations, county-required setbacks, drainage, and aesthetic preferences can all influence this decision. Decks often offer elevated views and can be crafted from various materials, while patios, directly on the ground, provide a seamless integration with the pool and landscape.
Fire Features: Whether it's a statement fireplace, fire bowl, or inset fire pit, these features introduce a warm and inviting ambiance. Perfect for evening gatherings, they create a focal point and extend the usability of the pool area into cooler nights.
Outdoor Kitchens: For those who love to entertain, an outdoor kitchen near the pool is a game-changer. From barbecues to full-fledged dinner parties, having culinary amenities at arm's length enhances the entertainment quotient.
Pool Houses: These structures can serve multiple purposes, from storage areas for pool equipment to full-fledged guesthouses.

Pool house

designs

can be tailored to offer shaded lounging areas, changing rooms, or even entertainment zones.
Landscaping: Introducing greenery and floral elements around the pool can elevate its aesthetic appeal. Landscaping not only offers visual delight but can also provide privacy barriers and shade when planned correctly.
Lighting: Landscape lighting and additional outdoor lighting around the pool are essential for safety and aesthetics. Illuminating pathways, highlighting certain plants, or setting mood lighting can transform the pool area's ambiance after sunset.
Storage Solutions: From pool toys to maintenance equipment, having dedicated storage solutions keeps the pool area tidy. Built-in cabinets, storage benches, or even dedicated sheds can be designed to blend seamlessly with the pool's aesthetics.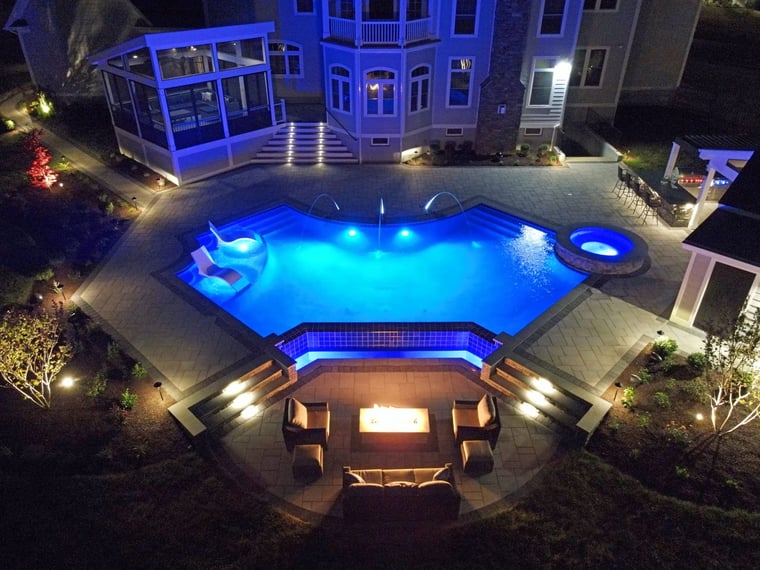 Harmony is Key: Merging In-Pool and Surrounding Features
The beauty of a perfect pool lies not just in its individual elements but in the symphony they create together. It's essential to ensure that the features inside the pool and the elements around it function cohesively. The waterfall inside the pool should resonate with the landscape, and the pool's lighting should harmonize with the outdoor lighting on the deck or patio. A fire feature or outdoor kitchen should feel like a natural extension, neither overshadowing the pool nor feeling out of place. At the heart of it all, these features should work in tandem to create a holistic environment where every detail is deliberate, functional, and beautiful.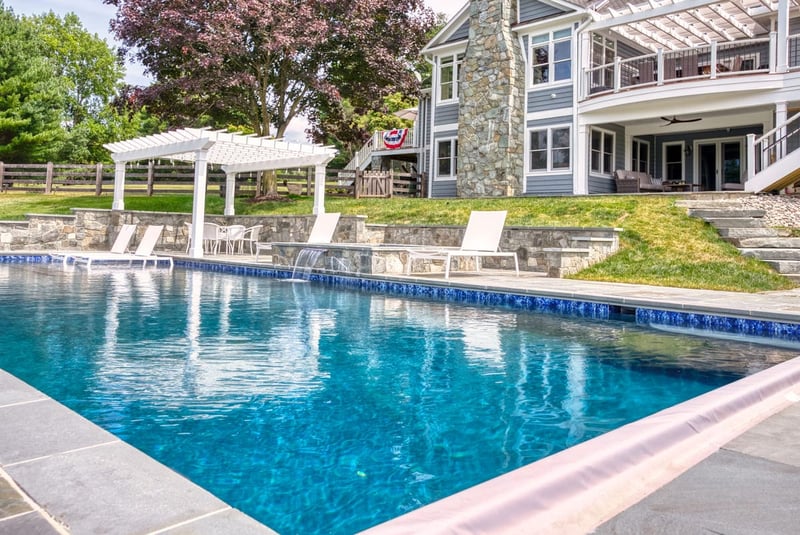 Ready to embark on this journey and craft the pool of your dreams? At Deckscapes, we're more than just builders; we're your partners in turning visions into reality. Reach out to us today, and let's dive into the world of possibilities together.