Which Porch Is Right for Your Family?
A porch isn't merely an extension of your home; it's a gateway to nature, a canvas for memories, and a testament to your design preferences. As the blur between indoor comfort and outdoor serenity becomes more coveted, crafting the ideal porch has evolved into an art and science. How do you choose the porch that seamlessly blends your home's architecture with the rhythms of nature, all while catering to your unique lifestyle? In the myriad of design and functional choices that beckon, this guide by Deckscapes navigates the intricacies of porch selection, ensuring that the space you create is absolutely perfect.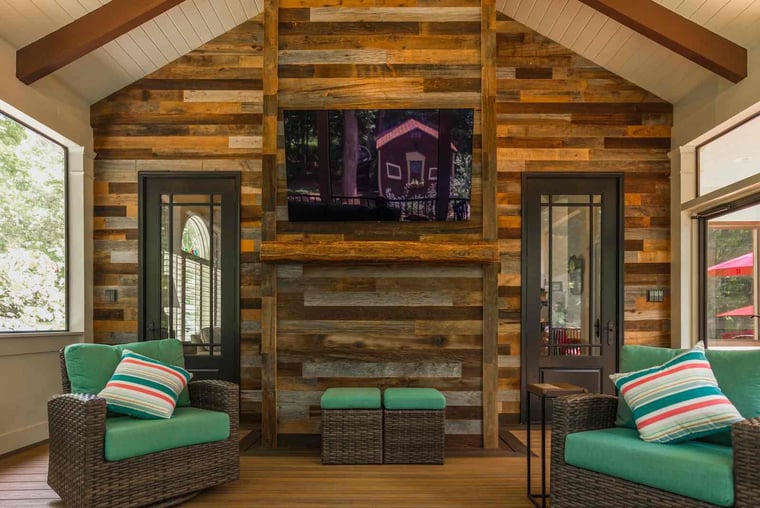 Crafting the Experience You're After
Every family is unique, and so are their needs. How do you foresee your family utilizing this space? Firstly, think of the primary function. Will the porch serve as a dining haven beneath the stars or as a lounging space where you read your favorite book with a cup of tea? Perhaps you need a versatile design that facilitates both. Families who thrive on entertainment might dream of feature walls, perfect for mounting a TV. Others might prioritize a play space for children or a nook for specific hobbies. Whether you're looking for screened-in porch ideas or contemplating open porch designs, centering the customer— that's you— in this story ensures that the result is a tailored fit for your family's lifestyle.
Choosing the Perfect Porch Elements for Your Family
Selecting the appropriate porch involves evaluating various elements you'll need to craft the experience you envision.
Covered Porches: Ideal for homeowners looking for protection from external elements, covered porches provide a shielded outdoor space that can be used regardless of weather conditions.
Porch Conversion Windows: For those seeking versatility, vinyl windows for porch enclosures provide the advantage of adapting to different seasons, ensuring year-round use of the porch.

Retractable Screens

: With innovations like Rainier remote-operated retractable screens, you can transition between a screened porch for those buggy evenings or an open setting when you crave fresh air unfiltered.
StruXure Pergolas: Combining modern design with functionality, these StruXure pergolas can be a focal point for any outdoor space, enhancing its aesthetic appeal while providing shade.
Built-In Seating: Incorporating benches or seating areas directly into the porch design maximizes space and offers a streamlined look.
Ambient Lighting: Integrating soft LED lights, lanterns, or string lights can set the mood for evening relaxation and gatherings.
Outdoor Kitchen: For those who love to grill or entertain, including a built-in grill, countertop, or even a full outdoor kitchen can elevate the functionality of the porch.
Planters and Greenery: Incorporate built-in planters or vertical gardens to bring a touch of nature to the porch, promoting relaxation and improving air quality.
Ceiling Fans: These can provide a cooling breeze during warmer months and also help deter flying insects.
Skylights: For covered porches, these additions can increase natural light during the day and offer stargazing opportunities at night.
Sound System: Built-in speakers and sound systems can enhance the entertainment potential of your porch, perfect for gatherings or relaxed music sessions.
Storage Solutions: Hidden storage compartments or cabinets for gardening tools, cushions, or outdoor games can keep the porch tidy and organized.
Railing Designs: Beyond safety, railings can become a design statement. Consider materials and designs that complement the overall aesthetic of the porch.
Fireplace: A central feature that can become a gathering spot, especially during cooler evenings.
Wondering about your porch construction timeline? We dig into it here.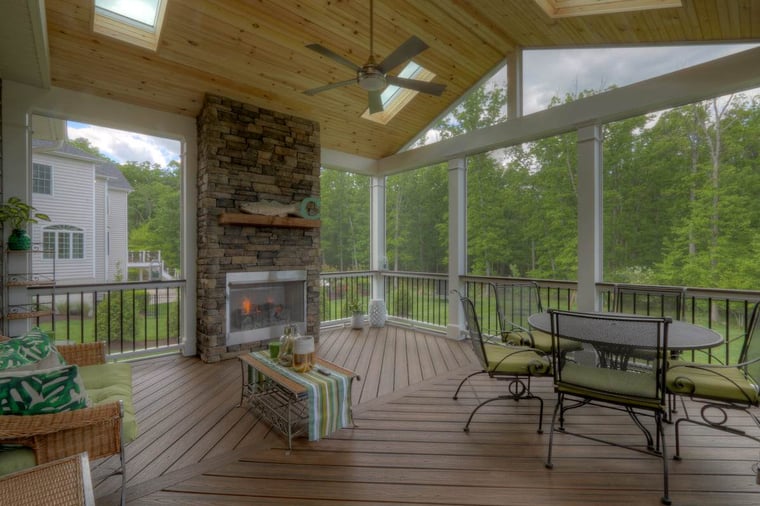 Porch Material Selection
The materials used in constructing a porch play a pivotal role in its longevity, maintenance needs, and overall aesthetic appeal. Making informed decisions about these materials can significantly impact the user experience. Here are the porch materials we recommend for both their longevity and appearance.
Trex Decking: Trex is a preferred choice for many homeowners. Its durability and aesthetic qualities position it as a top contender over other decking materials. It offers the look of wood without frequent maintenance, making it both a practical and attractive choice.
Natural Stone: Options like slate, granite, or limestone can offer a luxurious feel and are highly durable, albeit at a higher cost. These materials are often added with elements like fireplaces.
Tile: Porcelain or ceramic tiles, especially those designed for outdoor use, can offer a Mediterranean or contemporary feel to a porch. Ground level porches are great candidates for these products.
Porch Ceiling Materials: The ceiling of a porch contributes significantly to the overall ambiance. Materials can range from natural wood to composite and PVC materials, offering different aesthetic and maintenance attributes. The choice here can influence the porch's thermal comfort, lighting, and overall appearance.
Site Conditions: Elevated vs. Ground-Level Porches
A home's physical location and topography play a significant role in determining the most suitable porch design. Being aware of site conditions allows for a porch that complements the home's architecture and ensures structural integrity.
Elevated Porches: These are typically wood-framed structures that stand above the ground level. Elevated porches are especially suitable for homes on sloped terrains or those requiring additional height for a better view or airflow. They offer advantages such as protection from pests and increased visibility.
Ground-Level Porches: Often synonymous with patios, these are built directly on the ground. They are ideal for flat terrains and can seamlessly integrate with garden areas. Ground-level porches, especially when designed as screened porches on patios, provide a close-to-nature feel, allowing homeowners to enjoy their outdoor surroundings without any height barriers.
Differing Site Conditions: Every property has its unique challenges and benefits. It's essential to evaluate factors such as soil quality, drainage capabilities, sunlight exposure, and proximity to neighboring properties. Such professional evaluation ensures the porch is built in the most optimal location and orientation.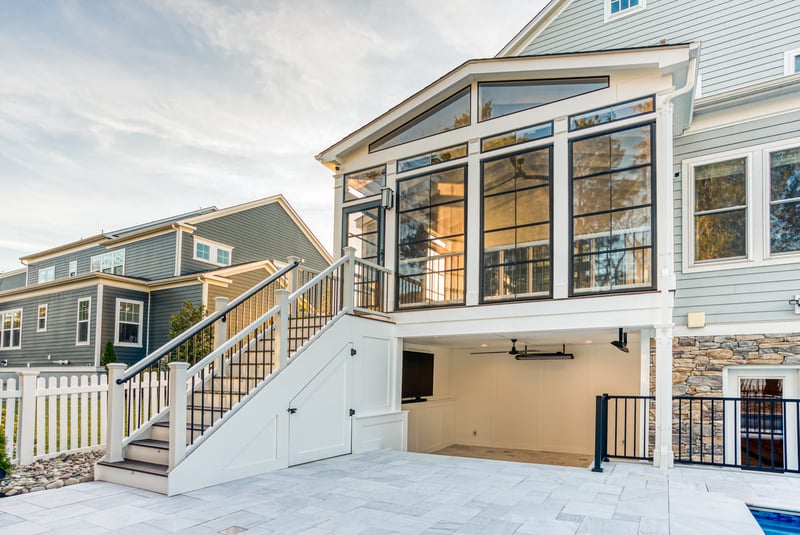 Enhancing Your Porch for Year-Round Use
To maximize the utility of a porch, homeowners often seek solutions that make the space usable throughout different seasons. Incorporating certain features can extend the porch's functionality, allowing enjoyment even in colder months or during peak summer.
Bromic Heaters: These are modern, efficient heaters designed for outdoor use. By installing Bromic heaters, homeowners can create a warm and cozy porch atmosphere even during colder days, expanding the utility of the space into the winter months.
Fireplaces: A classic addition to any porch, fireplaces provide both warmth and ambiance. Whether you opt for a traditional wood-burning fireplace or a modern gas variant, the charm it adds is undeniable. It becomes a focal point for gatherings and can significantly extend evening porch use.
Seasonal Preparations: Beyond heaters and fireplaces, other considerations can optimize a porch for seasonal use. For summer, ceiling fans or louvered shade structures can help regulate temperatures. Insect screens or Rainier remote-operated retractable screens can keep pests at bay during peak insect seasons, ensuring comfort at all times.

Family-Friendly Porch Designs: Safety and Functionality
When designing a porch with family at the forefront, safety becomes a paramount concern, especially for households with children. Porches should be equipped with features that minimize risks, such as non-slip flooring materials and secure railings. Additionally, the design should allow for clear sightlines so parents can easily monitor their children. On the functional side, considering storage solutions for toys or hobby-related items can make the space more accommodating.
The Value of a Porch Addition
Investing in a porch isn't solely about immediate utility; it also concerns the long-term value addition to the property. A well-designed and maintained porch can significantly increase a home's market value. Homebuyers often perceive porches as desirable because they offer additional living space and enhance the property's curb appeal. Beyond the financial perspective, the intrinsic value a porch adds in terms of creating memories, providing relaxation spots, and offering a connection to the outdoors cannot be understated.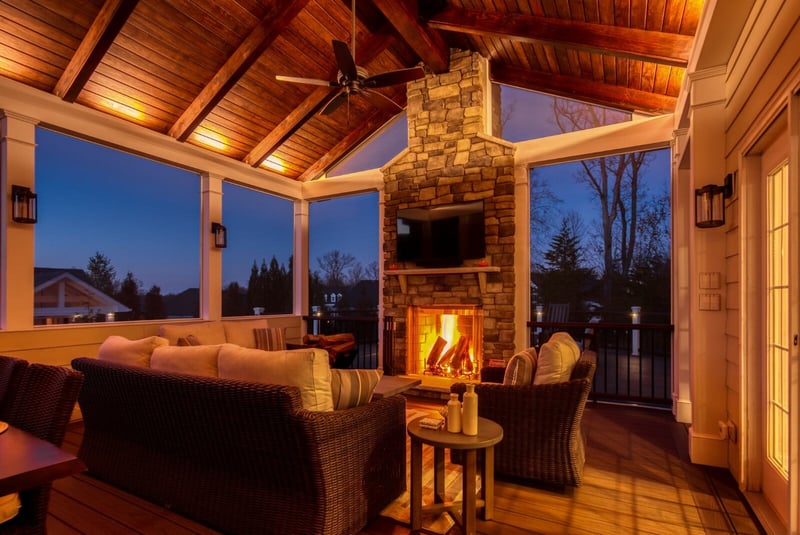 Deckscapes Crafts Your Dream Porch in Northern Virginia
Ready to bring your porch vision to life in the Fairfax, Loudoun, and Prince William area? At Deckscapes, we're dedicated to crafting spaces that align perfectly with your aspirations and needs. Contact us today for a personalized consultation.